Top 7 Video to Audio Converters Online FREE: Fast and Easy Solutions for Converting Videos to Audio
"How do I convert a video file to audio for free?"
In today's digital world, multimedia has become an integral part of our lives, and we often come across situations where we need to convert a video into an audio file. Whether it's for listening to music, creating a podcast, or extracting audio from a video, having a reliable video-to-audio converter tool can be extremely helpful. There are a plethora of online converters available on the internet, but not all of them are reliable, fast, and free. In this article, we will explore some of the best video to audio converters available online, and the key features that make them stand out from the rest.
Part 1: What Types of Video to Audio Converters You Need
If you need to convert a video to audio, there are a plethora of converters available, each tailored to different types of videos. For instance, if you want to quickly and easily convert online videos, such as those on YouTube or Vimeo, to audio files, an online converter is your best bet. These converters let you input the video's URL and download its audio version with just a single click. Conversely, if you have already downloaded videos from the web and need to convert them to audio, then a desktop converter would be more suitable, for there are no limits on the file size. Desktop converters can support a wide range of formats, and offer various customization options and quality controls. Some desktop converters also have free versions, which is a perfect option for those on a tight budget. Regardless of your needs, there is undoubtedly a converter available that can help you obtain the audio version of any video.
---
Part 2: Any Video Converter - A Highly Recommended All-in-one Free Video to Audio Converter
Any Video Converter is an exceptional all-in-one video-to-audio converter available online for free that comes the most recommended. Generally speaking, you need at least two converters to convert online or downloaded videos as stated above. However, you can handle all these issues with only Any Video Converter Free.
It is free, user-friendly software that can quickly and easily convert any video file into audio formats such as MP3, M4A, and OPUS. What sets Any Video Converter apart from other video-to-audio converters is its comprehensive features, including batch conversion, audio editing, video editing, and video downloading capabilities. The software supports a vast range of input formats and outputs high-quality audio files that can be played on a wide range of devices, including smartphones, tablets, and MP3 players. Whether you need to extract audio from a video file, convert an online video to an audio format, or edit an existing audio file, Any Video Converter is a versatile tool that can meet all your needs.
Features of Any Video Converter
Convert videos to audio formats freely
Convert online videos to audio formats directly
Download videos and music from 100+ sites
Cut or trim a video into segments
Crop video file to delete unwanted portions
Merge multiple clips into one video
Adjust audio volume and add audio effects
Convert videos or images to GIFs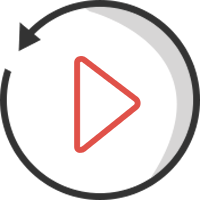 How to Convert Existed or Downloaded Videos to Audio
Step 1
Install Any Video Converter
To begin converting your videos to audio files using Any Video Converter, the first step is to download and install the software. Once installed, you will be greeted with an interface that features various tools that are all free to use, with the promise of more useful tools to come in the future.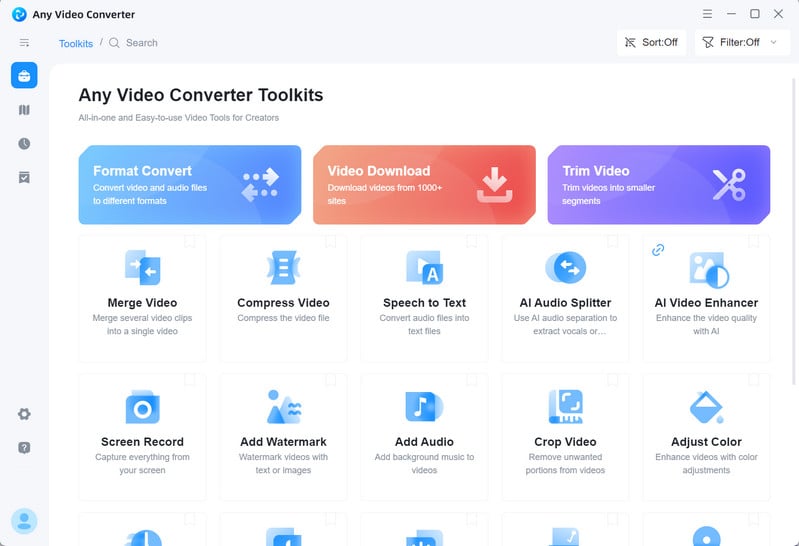 To upload your videos, simply select the Video Converter option and choose the videos you wish to convert. Any Video Converter supports a wide range of input formats, and batch processing is available for uploading multiple videos at once.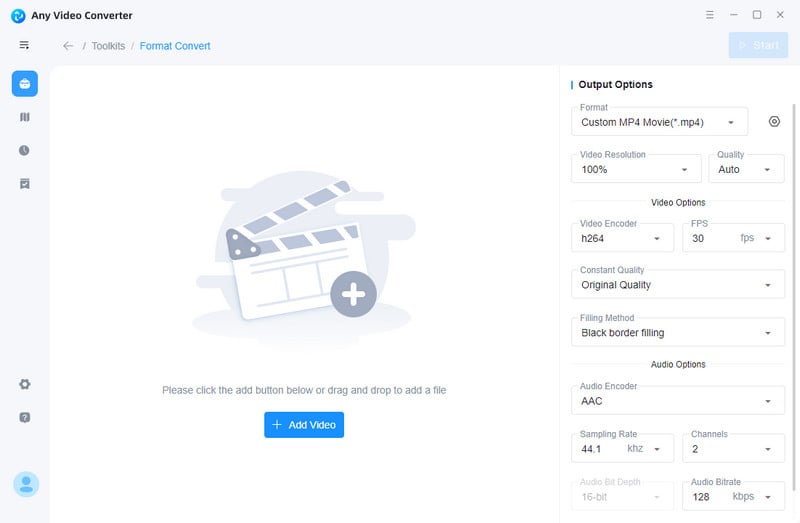 Step 3
Set Output Audio Format
Next, you will need to specify the output format as MP3 Audio (*.mp3) or another audio format of your choice, which can be done by navigating to the Basic Options menu and selecting the appropriate format from the dropdown list. It also offers advanced settings, such as video resolution, frame rate, encapsulation, and bit rate, for users who require more customization.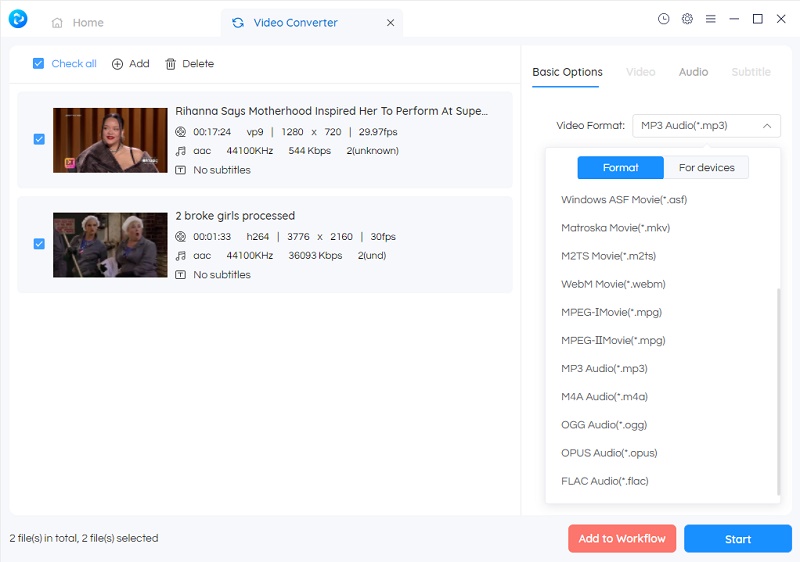 Step 4
Start Converting Videos to Audios
Finally, after finishing all the settings, click the Start button to convert videos to audio.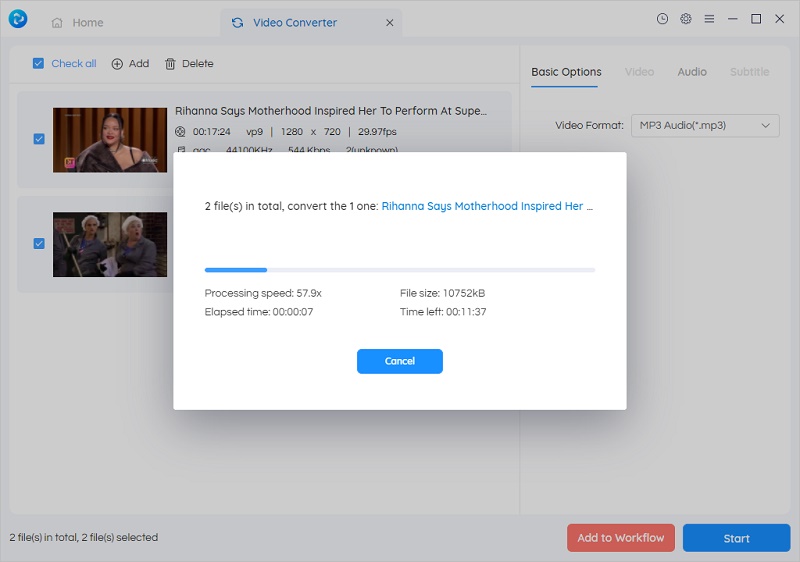 ---
How to Convert Online Videos to Audio with Any Video Converter
Step 1
Click Video Downloader and Input Online Videos
Back to the homepage of Any Video Converter and click Video Downloader.
Navigate to the website where the desired video is hosted, such as YouTube, and copy the URL of the video. Paste the URL into the search box within Any Video Converter and click the Analyse button. You can input multiple videos at once for simultaneous downloading.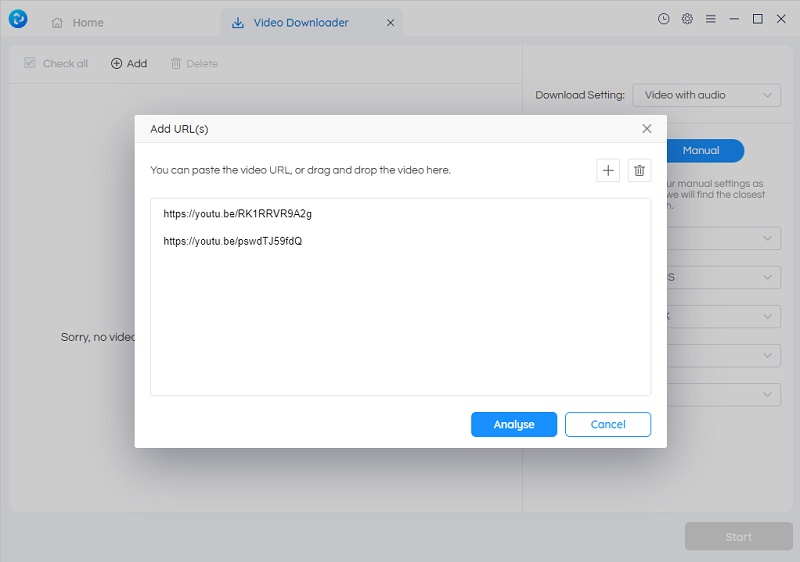 Step 2
Configure Conversion Settings
From there, you need to configure the conversion settings by selecting Audio only from the Download Setting dropdown menu. Depending on your preference, you can then select either the Auto or Manual setting.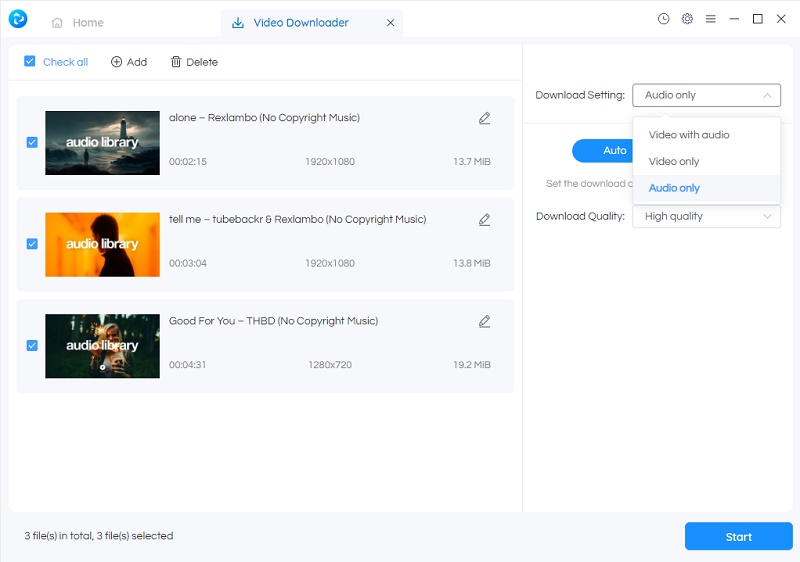 Auto allows you to choose the download quality (High-320kbps, Medium-128kbps, Low-64kbps), while Manual enables you to set the Audio Format (MP3, M4A, and OPUS) and Audio Bitrate.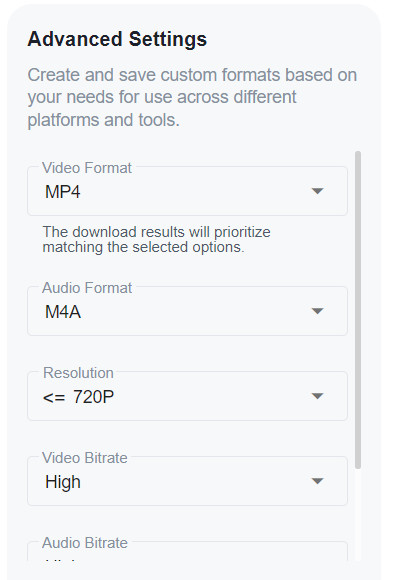 Step 3
Start Converting Online Videos to Audios
Once all settings are configured, simply click the Start button to begin the conversion process and download the online videos as audio files.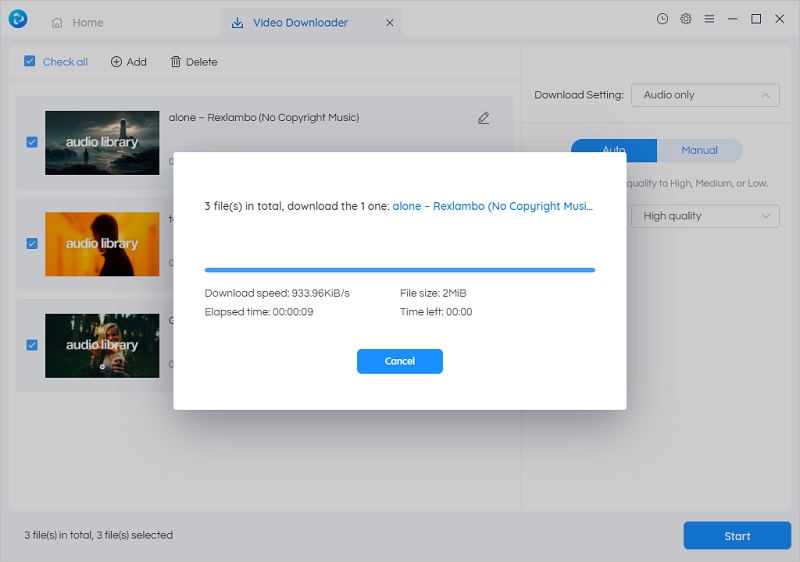 ---
Part 3: Online Video to Audio Converters to Convert Downloaded Videos to Audio Format
1. Online Audio Converter
Online Audio Converter is one of the tools from the website 123apps.com. It is a free and convenient solution for converting video files to audio formats. This tool offers a variety of key features that make it an ideal choice for anyone in need of an online audio conversion tool.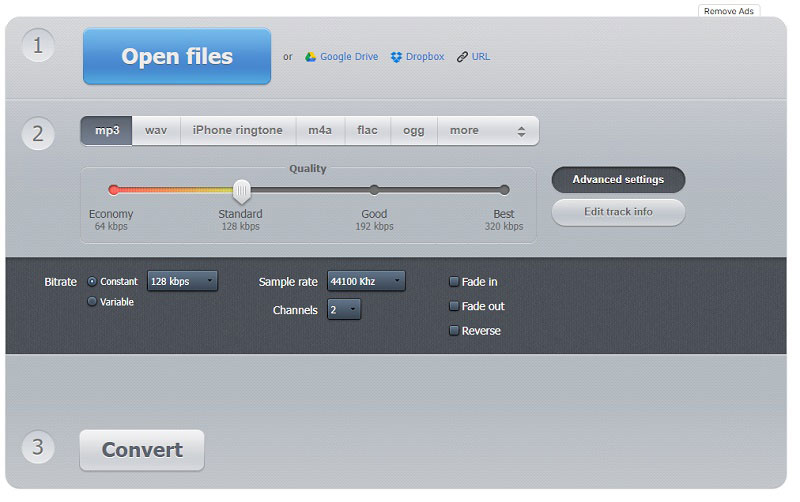 Key Features:
1. Support uploading files from the computer, Google Drive, Dropbox, and URL.
2. Convert video files to MP3, WAV, iPhone Ringtone, M4A, FLAC, OGG, MP4 and AMR.
3. It offers advanced settings such as configuring the quality, bitrate, frequency, and number of channels, applying reverse playback or fade in, or even removing a voice from the audio track.
4. Enable editing the track info, like changing the track's name, artist, album, year and genre. Tags are supported for MP3, OGG, FLAC, and WAV.
5. It works in a browser.
Limits for the Free Version and Cons:
1. The number of files that can be processed per day is limited to 70.
2. The maximum file size is 4 GB.
3. It's not ads-free.
---
2. FreeConvert Video to MP3
FreeConvert Video to MP3 is a powerful online tool that allows users to easily convert video files to MP3 audio format. It provides a user-friendly interface and offers a range of features to make the conversion process quick and hassle-free.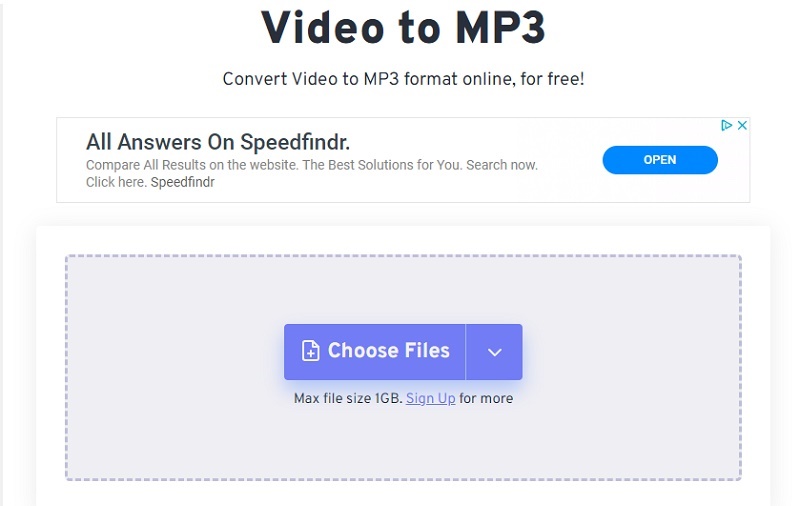 Key Features:
1. Support uploading files from the device, Dropbox, Google Drive, and URL.
2. Convert any video from MP4 to AVI and anything in between to MP3.
3. Use the advanced settings (audio bitrate, audio sample rate, cut audio and fade in/out effect, reverse audio) to convert your videos to mp3 in the highest quality.
4. Enable users to trim files before conversion.
Limits for the Free Version and Cons:
1. Free users get 25 conversion minutes per day. For most users, a conversion would only take a minute or less. This means up to 25 files per day can be converted for free.
2. There is a limit of 10 conversion minutes per file for free usage.
3. The maximum file size is 1 GB.
4. No other output audio format is supported in addition to MP3.
---
3. Zamzar
Zamzar is an online file conversion platform that allows users to convert files between different formats. It provides a simple and efficient way to convert various types of files, including documents, images, audio, video, and more. Zamzar supports a wide range of file formats, making it a versatile tool for file conversion.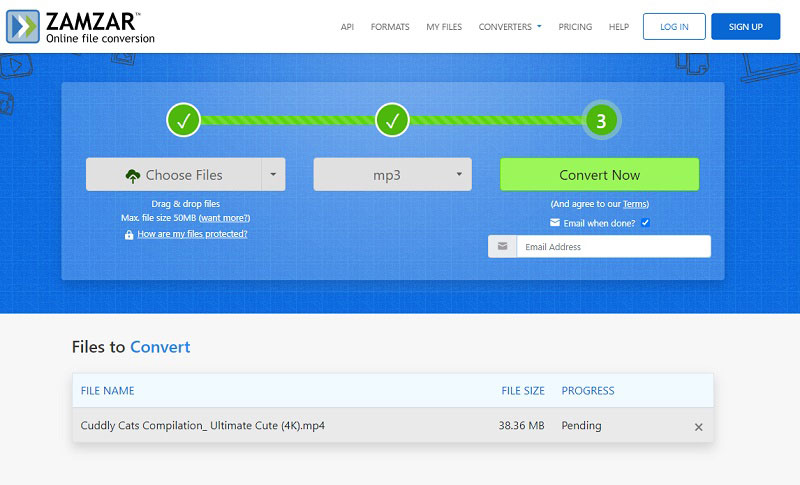 Key Features:
1. Support uploading files from the computer, Box, Dropbox, Google Drive, and OneDrive.
2. Batch conversion.
3. Support 1200+ file formats and could convert videos to MP3, AAC, AC3, FLAC, iPod, OGG WAV and more.
4. Intuitive interface without any ads.
Limits for the Free Version and Cons:
1. Maximum file size is 50 MB.
2. Convert 2 files per 24 hours.
---
Part 4: Online Video to Audio Converters Applicable for Converting from YouTube or Other Sites
This section will delve into a selection of reliable and valuable online converters specifically designed for downloading online videos and directly converting them into audio files.
1. Y2mate
Y2mate is a popular online video downloader and converter that allows users to download videos from various platforms such as YouTube, Facebook, Vimeo, and many others and convert them to audio files. It is totally free and compatible with almost all browsers, but the audio quality is limited to 160kbps, and you can only save the converted audio files in MP3 format.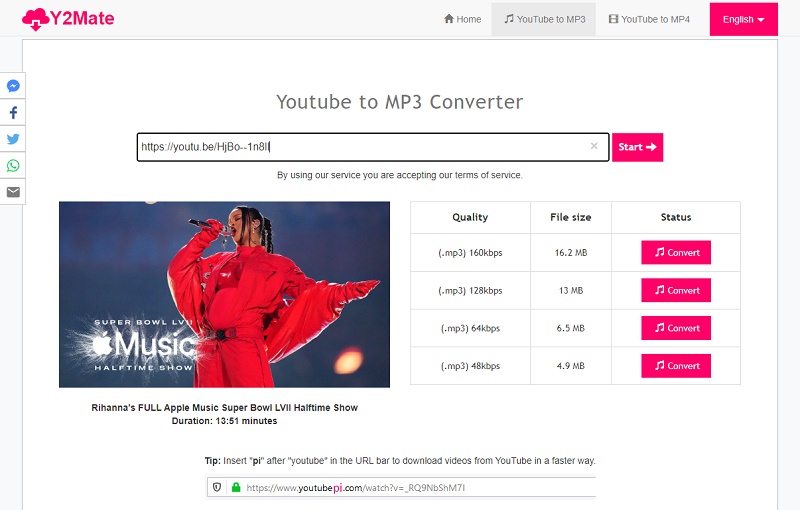 ---
2. Online Video Converter
The Online Video Converter provides a variety of methods for converting and downloading online videos, allowing you to save them in audio formats on your device for offline listening at a later time. Simply copy the video URL or links from popular platforms like YouTube, Facebook, Twitter, Vimeo, or others, and convert them into audio files with just a few simple clicks. It's worth noting that similar to Y2mate, this free online video to audio converter exclusively converts videos to MP3 audio format. If you want to convert the video to other audio formats, maybe it is not the best option, or you have to convert the audio again with other audio converters.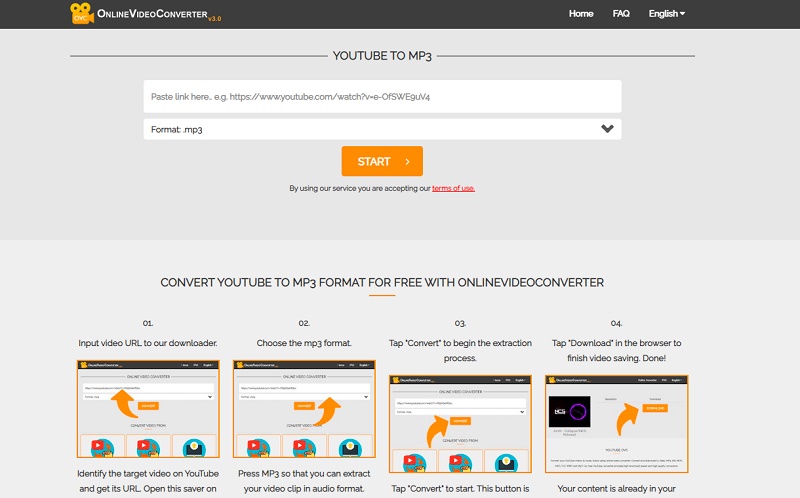 ---
3. ToMP3.cc
ToMP3.cc is another online video to audio converter that is totally free to use. It supports converting online videos to MP3 files with the highest quality up to 320kbps. It also offers a built-in search function, allowing users to directly search for videos within the platform and download them without the need to visit external websites.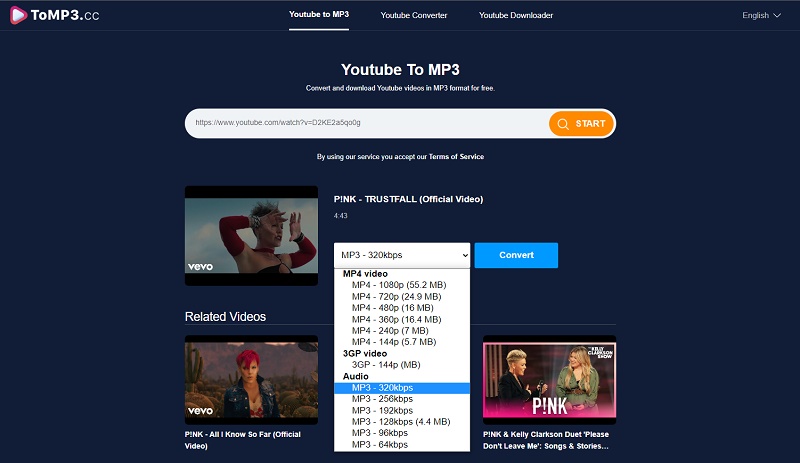 ---
Part 5: FAQs about Converting Video to Audio for Free
1. Can I turn video into audio?
Yes, you can turn a video into audio by using various tools and converters available online. These tools allow you to extract the audio track from a video file and save it as a separate audio file.
2. How do I convert a video file to audio for free?
To convert a video file to audio for free, you can use the one-stop converter Any Video Converter, other online video-to-audio converters like Online Audio Converter, Online Video Converter, or Y2mate. These platforms typically require you to upload the video file or provide its URL, select the desired output format (such as MP3), and initiate the conversion process.
3. What is the best YouTube to audio converter free online?
Most of the converters have similar functions, but they are also different from some points and have individual features. So the best ones are not the same for different people. But considering the quality, speed and convenience, Any Video Converter is the best free desktop YouTube to audio converter available online now and the ToMP3.cc is also a good free online YouTube to audio converter.
---
Bottom Line
In conclusion, the top 7 video-to-audio converters discussed in this article offer fast and easy solutions for converting videos to audio formats online. Whether you need to convert downloaded videos, extract audio from platforms like YouTube, or need an all-in-one converter like Any Video Converter to solve both conversions at one time, these tools cater to various needs. With these free online converters, you can enjoy your favorite videos as audio files, enhancing your listening experience. Explore these converters and unlock a world of audio possibilities today.
---
Highly Recommended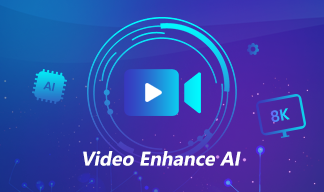 AVCLabs Video Enhancer AI
AVCLabs Video Enhancer AI is an AI-based video enhancement software to upscale video from 480p to 1080p, 1080p to 4K, and up to 8K. With AVCLabs Video Enhancer AI, you can upscale low-res videos to high resolution and bring your old videos a stunningly new look.
Learn More


Video Converter

DVD Converter

Video Editor

Enhance Video Quality

Enhance Image Quality

Remove Objects