Best Free MP4 to MP3 Converters: How to Convert MP4 Files to MP3 on Your PC, Android Phone, iPhone or Online
MP4 format is primarily used for video content. However, sometimes we may only want to keep the audio portion of these files, which requires converting them into MP3 format. Therefore, having access to the best MP4 to MP3 converters is essential. Whether you're an Android user, an iPhone devotee, a PC enthusiast, or simply looking for online solutions, we've got you covered.
This blog post will explore some of the top tools to convert your MP4 files to MP3 across multiple platforms, including PCs, Android phones, iPhones, or online solutions so that you can access all sorts of music files from new formats to classic favorites quickly and easily–so let's get started!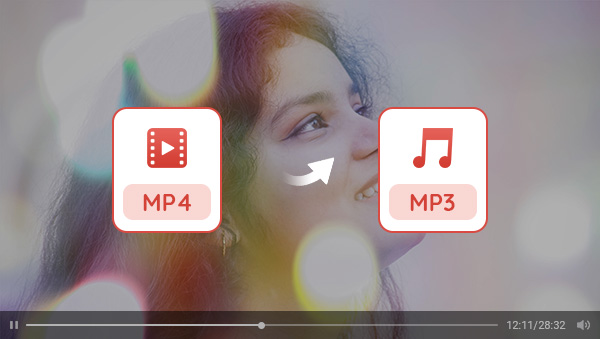 Part 1: Best Free MP4 to MP3 Converter for PC - Any Video Converter
Any Video Converter is the best desktop mp4 to mp3 converter available. It's fast, versatile, and user-friendly, with a wide range of features that make it perfect for converting video files quickly and easily. With Any Video Converter, you can convert between MP4, MP3, WEBM, AVI, MOV, MKV, or other common formats with just one click. Additionally, this powerful software lets you edit your videos with a variety of tools such as adjusting brightness, contrast, and saturation levels; trimming unwanted portions; adding subtitles and watermarks; and more. Furthermore, you can even use the built-in video downloader to grab clips from popular websites like YouTube in HD quality — no need to search around for separate solutions.
Available on: Windows
Price: Free
Features of Any Video Converter
Convert MP4 to MP3 and other formats
Convert videos to higher resolution
Convert videos or images to GIFs
Cut or trim a video into segments
Crop video file to delete unwanted portions
Adjust audio volume and add audio effects
Download videos and music from 100+ sites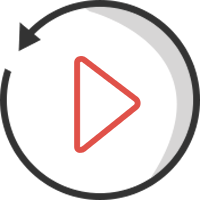 How to Convert MP4 Files to MP3 with Any Video Converter
Step 1
Install Any Video Converter
Download and install Any Video Converter. Every single tool on the homepage is completely free to use, with even more on the way.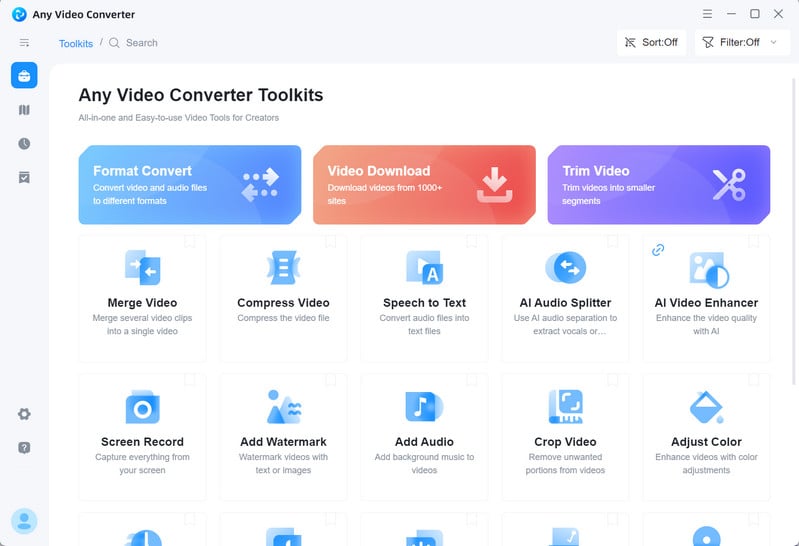 Click the Video Converter option and upload the MP4 videos. It supports batch processing, so you can upload more videos on time or by clicking the Add button.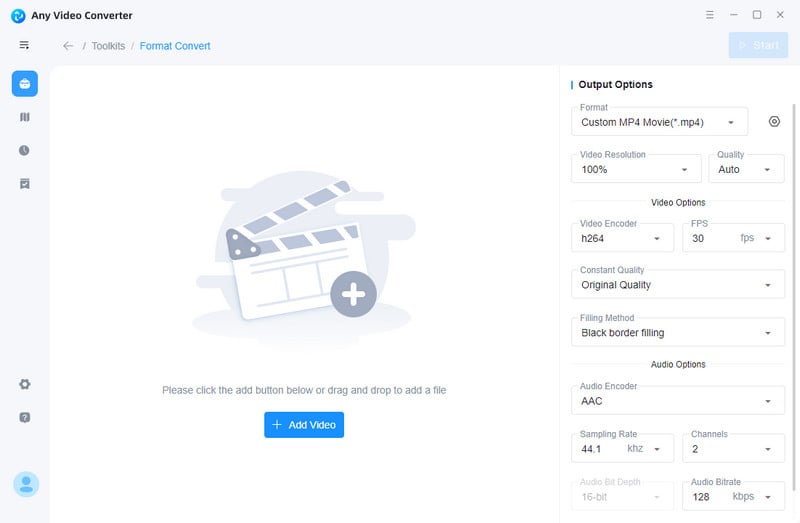 Step 3
Set Output Video Format to MP3
Go to Basic Options and find the video format. Click on the drop-down menu of video formats, then scroll down to find MP3 Audio (*.mp3) and select it. So far, what you need to set up has been basically completed. AVC also provides you with some other advanced settings, such as video resolution, frame rate, bit rate, etc.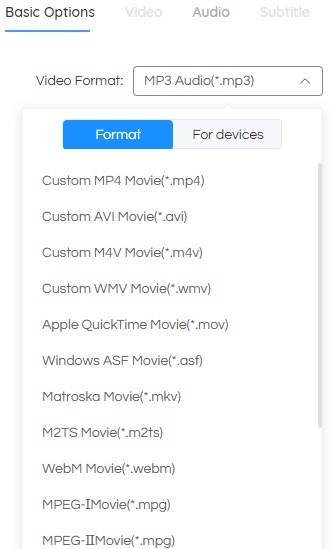 Finally, after finishing all the settings, click the Start button to convert MP4 files to MP3.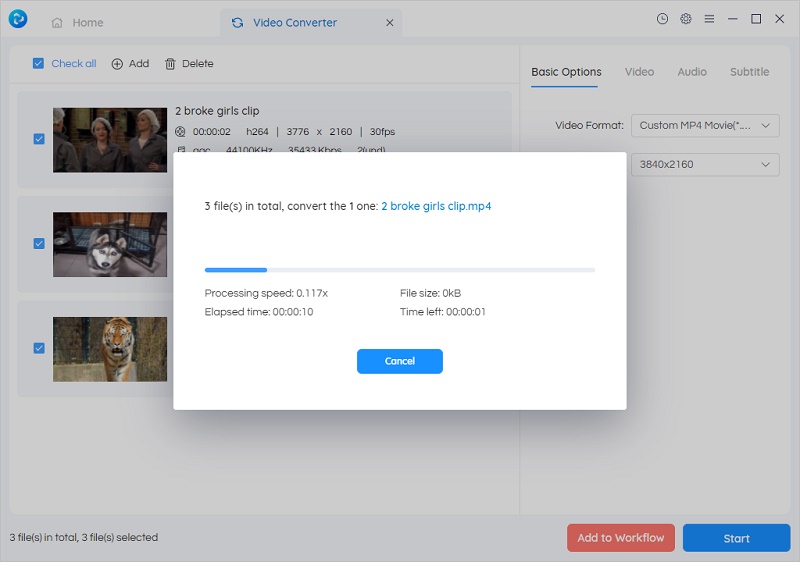 ---
Part 2: Best MP4 to MP3 Converter Online- Zamzar
Zamzar is a free online MP4 to MP3 converter that allows users to convert files of any format into another. It supports more than 1100 different conversions and makes it easy for people to work with documents, images, audio, video, and other types of media. It also offers an API for developers who wish to use the Zamzar conversion technology in their applications or services.
With Zamzar, you can easily convert a wide range of file formats such as Word documents (DOC/DOCX), PowerPoint presentations (PPT/PPTX), PDF, image files (JPEG, PNG, etc.), audio files (MP3, M4A, WMA, etc.) and many more. Additionally, you can also convert multiple files at once and even upload a file directly from your Dropbox or Google Drive account.
Available on: All kinds of browsers.
Price: Free, but limit the maximum file size to 50 MB. $18/month for a Basic subscription, $30/month for a Pro subscription, and $70/month for a Business subscription.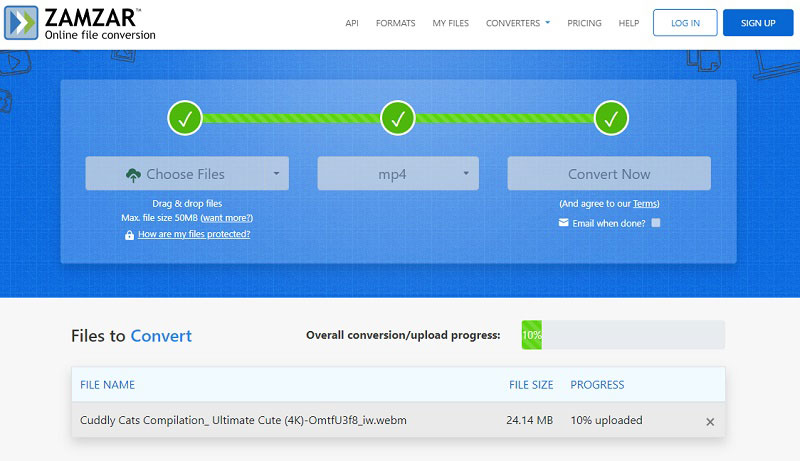 ---
Part 3: Best MP4 to MP3 Converter for Android Phone - Video to MP3
Video to MP3 is a good MP4 to MP3 converter offered by InShot Inc. With the fastest video-to-mp3 converter, you can convert mp4 to mp3, video to audio, cut video and audio, merge music, and create your own ringtone for free. However, it is annoying having no control over bitrate when you merge audio files.
Available on: Android Phone
Price: Free, but offers in-app purchases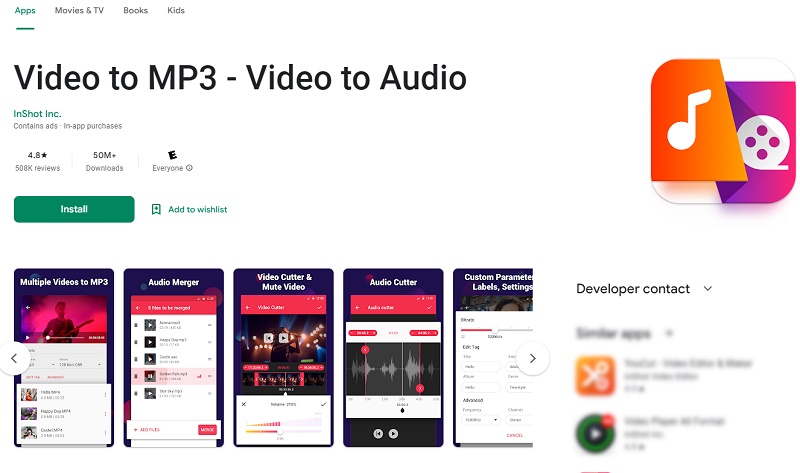 ---
Part 4: Best MP4 to MP3 Converter for iPhone - Media Converter
Not only can Media Converter - Video to MP3 extract audio from videos, but it also doubles as a media player that lets you enjoy your favorite videos and music. This versatile app can convert a variety of input file formats into MP3, M4A, WAV, and other audio file formats. However, it lacks more advanced MP4 to MP3 conversion options, such as selecting the preferred bitrate or adding tags to the output files. While the Pro version doesn't offer file-sharing options, it still provides a reliable and easy-to-use platform for audio extraction and conversion.
Available on: iOS
Price: Free, but offers in-app purchases to remove the ads.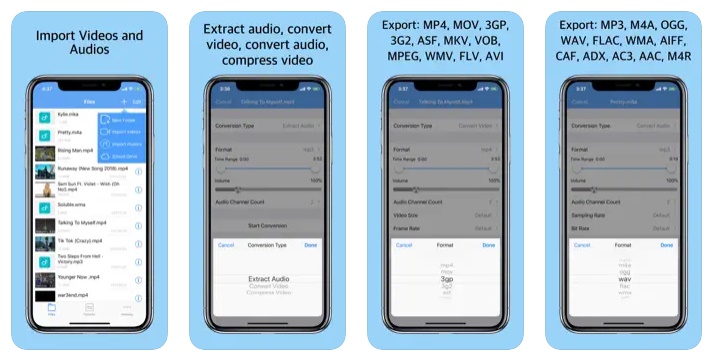 ---
Bonus: FAQs about MP4 to MP3 Converters
1. What is the safest MP4 to MP3 converter?
Any Video Converter is one of the most popular and safest MP4 to MP3 converters available for Windows without any ads and bundled software. The intuitive interface makes converting files easy even for novice users. The software is also free and provides fast conversions with no quality loss.
2. What is the best way to convert MP4 to MP3?
When it comes to converting MP4 files to MP3, there are a few different methods that can be used. The best way is to use a desktop application such as Any Video Converter, which is specifically designed for this task. This software will convert your MP4 files to MP3 at a fast speed without sacrificing quality, and you can customize the output settings to your liking. Alternatively, if you don't want to install any software, you can use an online converter. These are free to use and can be accessed from any device with an internet connection. However, they may not have as many features and customizations available, so if you need to make any specific changes then a desktop converter is the way to go.
3. How to convert MP4 to MP3 without losing audio quality?
It is very easy to do so. Just download the Any Video Converter, choose the "Convert Video" tool, and upload the MP4 videos. Then select MP3 format in the Basic Options part, and finally click the "Start" button to convert MP4 to MP3 without losing quality.
---
Conclusion
In conclusion, if you're looking to convert your MP4 files to MP3 easily and quickly, then the four options discussed — Any Video Converter for PC, Zamzar Online Converter, Video to MP3 app for Android phones, and the Media Converter app for iPhones — are all excellent choices. Depending on what device you're using and what features you need, any one of these options has the potential to provide a smooth, user-friendly conversion experience. With just a few clicks, no matter which option you settle on, you'll be listening to your favorite audio files in no time!
---
Highly Recommended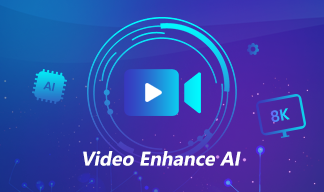 AVCLabs Video Enhancer AI
AVCLabs Video Enhancer AI is an AI-based video enhancement software to upscale video from 480p to 1080p, 1080p to 4K, and up to 8K. With AVCLabs Video Enhancer AI, you can upscale low-res videos to high resolution and bring your old videos a stunningly new look.
Learn More


Video Converter

DVD Converter

Video Editor

Enhance Video Quality

Enhance Image Quality

Remove Objects