Convert Your Videos to GIFs Easily with Online Video to GIF Converters (For Free!)
Are you looking for an easy way to convert your videos into GIFs? With online video-to-GIF converters, you can quickly and easily create GIFs from virtually any format, including MP4, MOV, AVI, MKV, and more. You can even use them to turn YouTube videos into GIFs. Whether you're creating a GIF to make your social media posts stand out or just want to share a funny moment with your friends, these converters make it easy to get the job done. Best of all, many of these converters are free to use, so you don't have to spend a dime. Next, this article will introduce you to the top two video-to-GIF converters online and provide you with the best alternative to online video-to-GIF converter.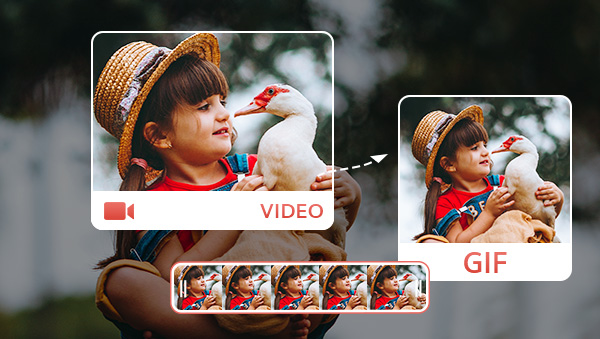 Part 1: Benefits of Using Online Video to GIF Converter
Using an online video-to-GIF converter has many benefits. First, it is quick and easy to use. All you need to do is upload your video, choose the settings, and the converter will do the rest. This means that you can quickly create GIFs without having to spend hours learning how to use complicated software.
Second, using an online converter is much cheaper than buying expensive software. Many online converters are free or have a low cost, making them much more affordable than buying software. Plus, you don't have to worry about downloading or installing any software, making it even easier and more cost-effective.
---
Part 2: Top Safe and Efficient Video to GIF Converters Online
1. Ezgif
Ezgif is the most comprehensive one among many online videos to GIF converters. This online converter allows you to upload a wide variety of video files — like NP4, AVI, WebM, FLV, and WMV, or from another server using the URL. You can choose to cut a specific part of the video by entering the start and end times. If you don't select any part, the converter will create a GIF from the initial five seconds of the video. Additionally, you have the option to change the GIF's dimensions or crop out a certain part of the video using the resize and crop tools after the conversion is complete. But its biggest drawback is that the maximum file size that can be uploaded is limited to 100 MB and it is NOT ads-free.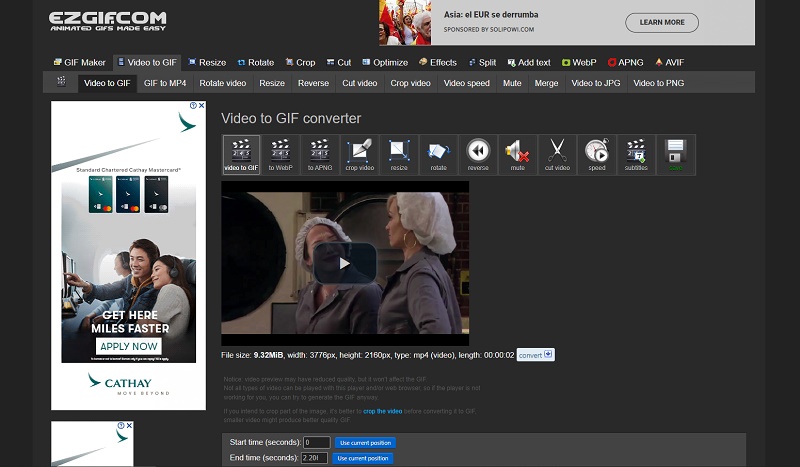 ---
2. Adobe Express
Adobe Express is the first easy-to-use online free video-to-GIF converter. It helps users quickly create high-quality animated GIFs from videos on their computers. The main advantage of using Adobe Express is that it supports adjusting the video's duration. When you upload a long video but only need part of it, you can trim the video and then convert the fragment to GIF in one stop without any pre-edition. The disadvantage of it is that it has a single function and there is no option to add other effects. If you want to make interesting animated stickers, such as adding text, changing speed, etc. using Adobe Express is not work.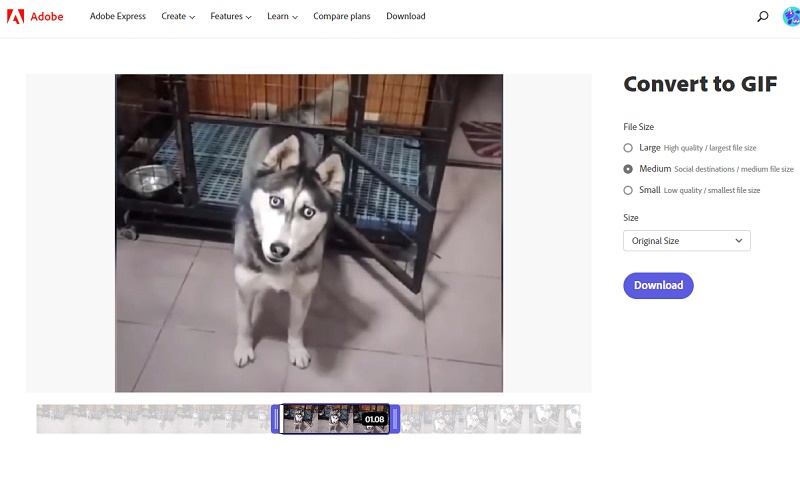 ---
Part 3: An Alternative to Online Video to GIF Converters
Besides online video to GIF converters, there are also some powerful and free desktop converters for those who prefer desktop programs.
Any Video Converter is the go-to solution for transforming videos or images into captivating animated GIFs. With its expansive range of features, including a video format converter, video downloader, video editing tools, and an audio effects library, this free program has everything you need to create a top-notch digital masterpiece!
Features of Any Video Converter
Convert videos or images to GIFs
Convert videos between any formats freely
Download videos and music from 100+ sites
Cut or trim a video into segments
Crop video file to delete unwanted portions
Merge multiple clips into one video
Adjust audio volume and add audio effects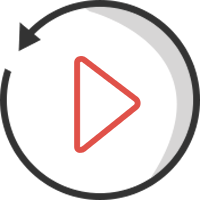 Steps to Convert Video to GIF with Any Video Converter
Step 1
Install Any Video Converter
Download and run Any Video Converter. You will see a simple interface with nine single tools. They can be used separately or combined to create a customized workflow based on your needs.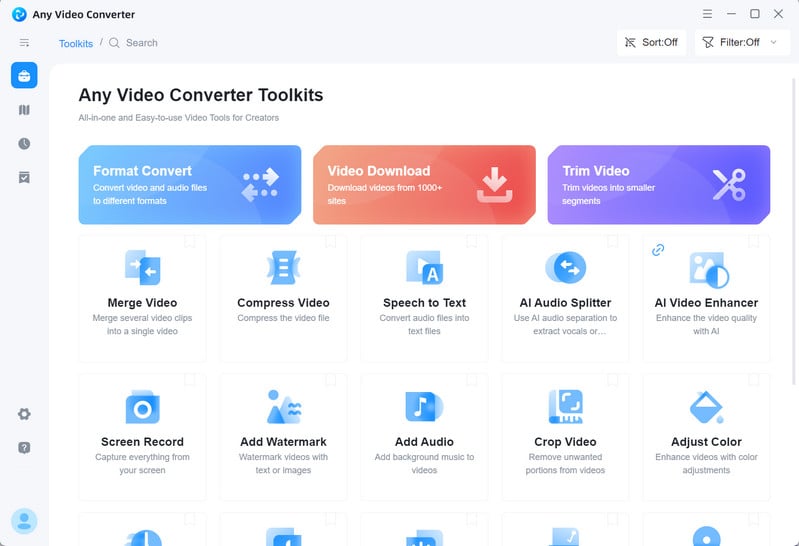 Step 2
Upload the Video to GIF Maker
To get started, simply click the GIF Maker to upload any video and make sure to switch it over to a "video files" format—this ensures you'll be able to locate your work files on your computer.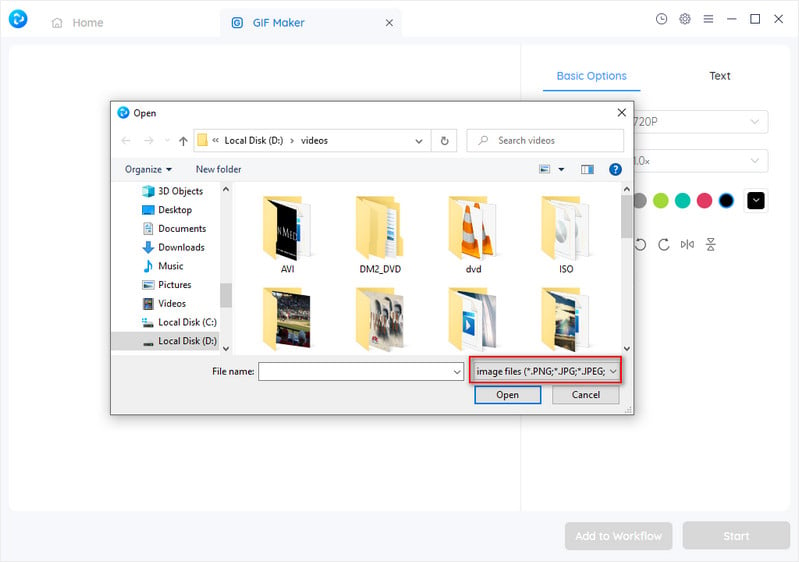 If you haven't downloaded the video material, just scroll down to find the Video Downloader, which can help you download videos from popular websites like YouTube, Vimeo, etc.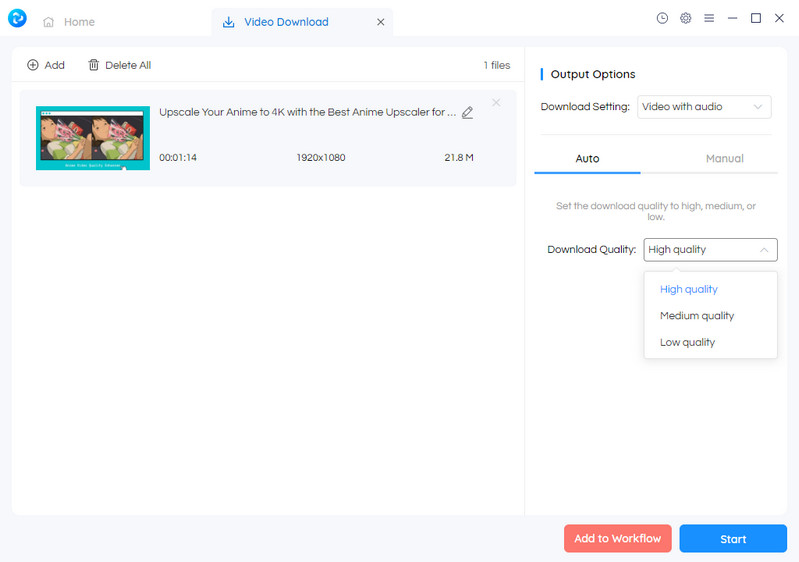 Personalize your video by adjusting its size and speed, or spice it up with captivating text.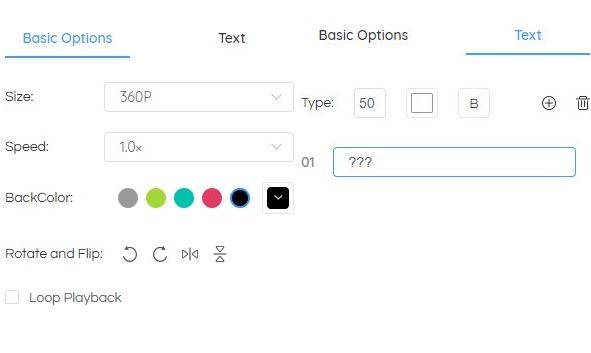 Step 4
Start Converting Video to GIF
Now that you've completed your edition, it's time to bring your video clip alive by converting it into a GIF! Just click the Start button to get started.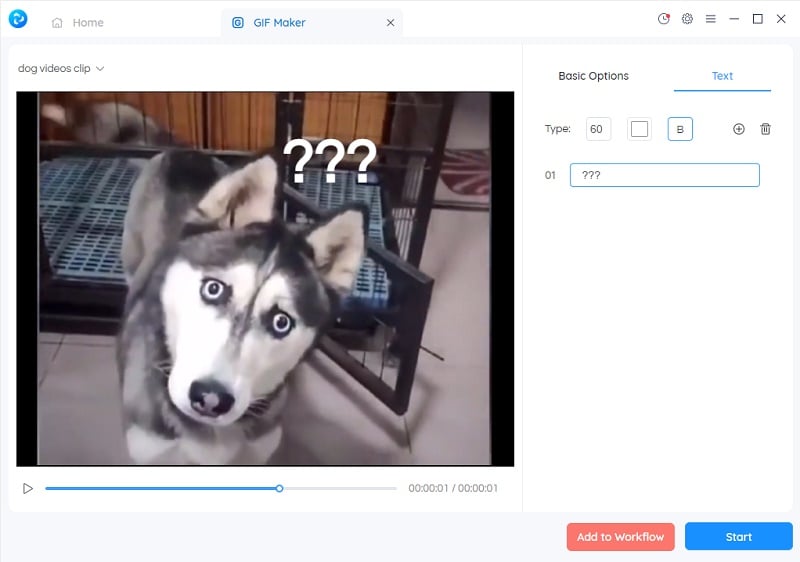 ---
Conclusion
With the help of video-to-GIF converters online, you can easily convert your video into GIFs with just a few clicks. Not only do they save time, but they also offer free features that make creating GIFs even simpler. For those who want an alternative to online video-to-GIF converters, Any Video Converter is the ultimate desktop converter that enables you to turn any video clip into a vibrant and eye-catching animation in no time. With so many options for converting video into GIFs, it's easy to find a solution that fits your needs. So go ahead, get creative, and start making those GIFs!
---
Highly Recommended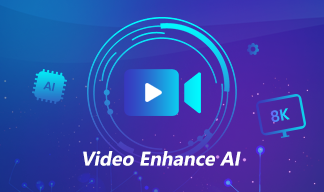 AVCLabs Video Enhancer AI
AVCLabs Video Enhancer AI is an AI-based video enhancement software to upscale video from 480p to 1080p, 1080p to 4K, and up to 8K. With AVCLabs Video Enhancer AI, you can upscale low-res videos to high resolution and bring your old videos a stunningly new look.
Learn More


Video Converter

DVD Converter

Video Editor

Enhance Video Quality

Enhance Image Quality

Remove Objects