TikTok Video Quality Enhancer | How to Make TikTok Videos Clearer
"Why Are My TikTok Videos Blurry? How to make my TikTok videos clearer?" - Toby Beresford
TikTok is one of the most popular social media platforms today. It's also a great way to express yourself and share your creative ideas with the world. But if you want to stand out from the crowd and make sure your videos look professional and high-quality, you need to learn how to enhance video quality on TikTok. In this step-by-step guide, you'll find out how to make your TikTok videos clearer and more visually appealing. We'll cover everything from the basics of video editing to the advanced tips and tricks of the trade. Whether you're a beginner or a pro, you'll be able to make the most of TikTok's video editing capabilities and create videos that look great and draw in more viewers. So, let's get started and learn how to enhance video quality on TikTok!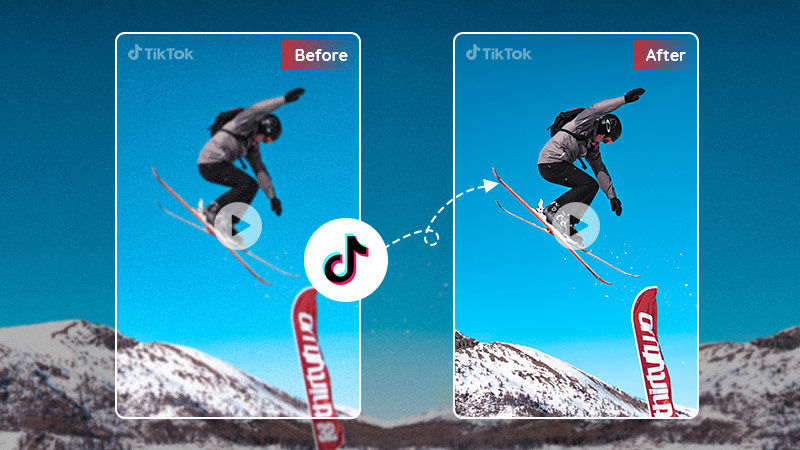 Part 1: Why Are My TikTok Videos Blurry
Before we delve into how to make TikTok clearer, let's first find out why your videos TikTok might be blurry.
1. The most common reason behind blurry TikTok videos is the wrong camera setting. If you're using a phone to record videos, you'll most likely be using the standard settings. This means your videos will be recorded with a low-resolution setting, which in turn makes them look blurry.
2. Another reason that videos might be blurry is poor lighting. If you're recording in low light or dimly lit environments, there won't be enough light for the camera to properly focus. In these cases, you can try using a light source to brighten the scene and increase the overall clarity of your videos.
3. You might be recording videos on an unstable surface. This can cause the videos to be blurry or shaky no matter how good your camera settings are. To avoid this, you can either use a tripod or record the videos while sitting down.
---
Part 2: How To Make TikTok Videos Clearer with AVCLabs Video Enhancer AI
Now that you know why your TikTok videos are blurry, let's discuss how to make them clearer. As we mentioned earlier, the best way to enhance video quality on TikTok is to use a TikTok video enhancer.
AVCLabs Video Enhancer AI is such a powerful AI-based video enhancer that helps you sharpen your TikTok videos and make your TikTok videos clearer in just a few simple steps. It focuses on upscaling low-res video to 1080p, 4K, and even up to 8K, adjusting brightness, contrast, and saturation of the video, automatically removing noise or blur from videos, stabilizing shaky videos, deinterlacing videos, sharpening faces in blurry videos, etc. Driven by AI technologies and powerful algorithms, it does all the work automatically and intelligently. No advanced video editing skills are required.
Video Enhancer AI
Enhance the video quality to make them more aesthetically pleasing.
Upscale videos from SD to HD, HD to 4K.
Sharpen faces from blurry video and enhance facial details.
Support denoising and deinterlacing videos as well as cropping videos to fill frame.
Support GPU & TensorRT acceleration.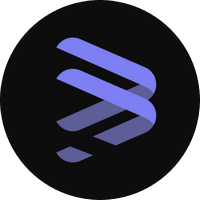 How to Make TikTok Videos Clearer and Sharper Using AVCLabs Video Enhancer AI
Step 1
Install and Run AVCLabs Video Enhancer AI
After downloading and installing AVCLabs Video Enhancer AI on your Windows PC or Mac computer, launch it to start exploring this perfect TikTok Video Quality Enhancer.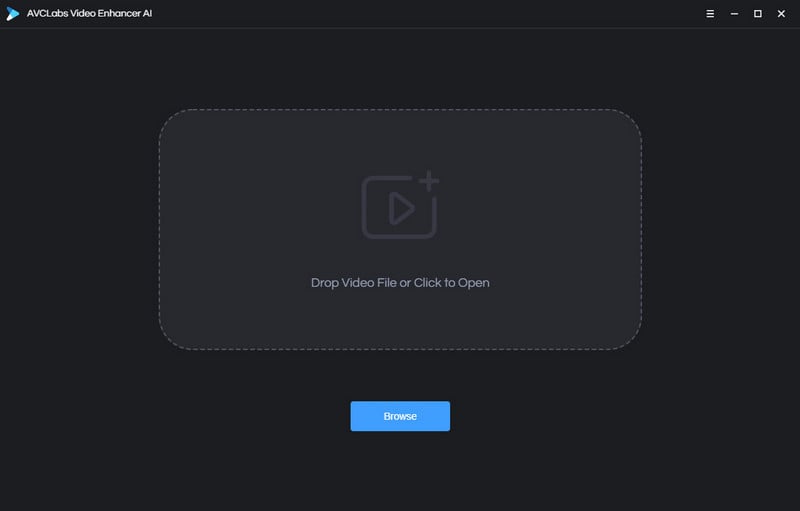 Step 2
Add Blurry TikTok Videos, Select the AI Model and Set the Output Parameters
Import one or multiple low-quality and blurry TikTok videos from your hard drive to this TikTok Video Quality Enhancer, then you need to set up output parameters like processing AI model, output resolution, output format and output path, brightness, contrast, and saturation, etc according to your need. If you also tend to sharpen the face details and make blurry faces clear in your TikTok videos, you are able to turn on the Face Enhancement option.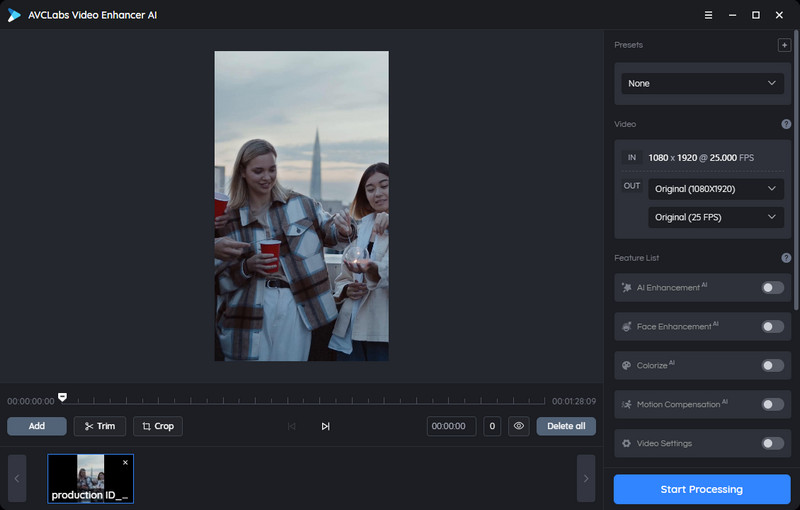 Before unblurring the TikTok video, you are capable of trimming the unwanted parts frame by frame or trim your video to the desired length by dragging the slider bar at the bottom of the program to save processing time. Additionally, you can input the start and end of the frames to set a clipping point accurately.
Step 4
Start Making TikTok Video Clearer Automatically
After all the preparation work is ready, simply click on the Start Processing button to start enhancing low-res, blurry TikTok videos automatically.
Once the TikTok video unblurring process is completed, you can enjoy the high-quality, clearer and crisper TikTok videos by opening the output video folder.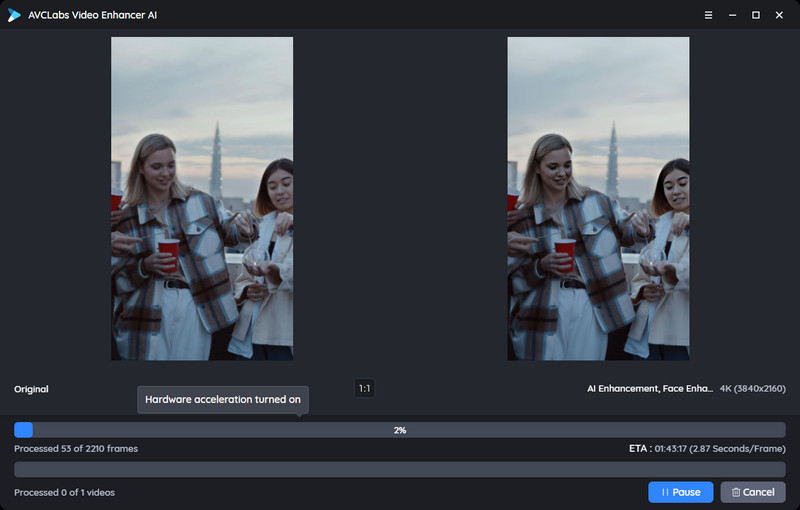 ---
Part 3: Tips to Create High-Quality TikTok Videos
Here are a few tips to create high-quality TikTok videos.
1. Use good lighting
Having good lighting is one of the most important aspects of video creation. Not only does it allow the camera to properly capture your subject, but it also helps you look better. Use a light source to brighten up your scene to avoid a dark and dimly lit video.
2. Make sure your camera is steady
If your camera is shaky or unstable, it's obvious that your video is going to be blurry. Make sure you're holding your camera correctly, or use a tripod or a dolly to make sure the camera stays still.
3. Turn off the digital zoom
The digital zoom may make your video seem closer and more zoomed in, but it's very grainy and blurry. So, turn off the digital zoom to avoid this issue.
4. Use a tripod
Using a tripod will help you avoid blurry shots by keeping the camera still.
---
Conclusion:
Now that you know how to make TikTok videos clearer, it's time to start creating. Remember to use good lighting, make sure your camera is steady, turn off the digital zoom, and use a tripod to create high-quality videos that look professional. And once you're done, don't forget to share them with your friends and followers on TikTok. This is a great way to get your name out there and start building a following.
Try AVCLabs Video Enhancer AI to breathe new life into your footage!
---

Video Converter

DVD Converter

Video Editor

Enhance Video Quality

Enhance Image Quality

Remove Objects