Top 3 Best 4K Video Converters to Convert Low-res Videos from 720p, 1080p to 4K
"What's the best 4k video converter for converting low resolution videos from from 720p, 1080p to 4K?" - Kyle Taylor
If you are looking for the 4K video converters to convert your low-resolution videos from 720p, 1080p to 4K, then you have come to the right place! In this article, we will introduce you to the top 5 best 4K video converters that will not only help you convert your videos with ease but also give you great quality results. From high-end professional video converters to budget-friendly ones, we have something for everyone. We will also discuss the features, pros, and cons of each converter so you can make an informed decision. So, let's get started!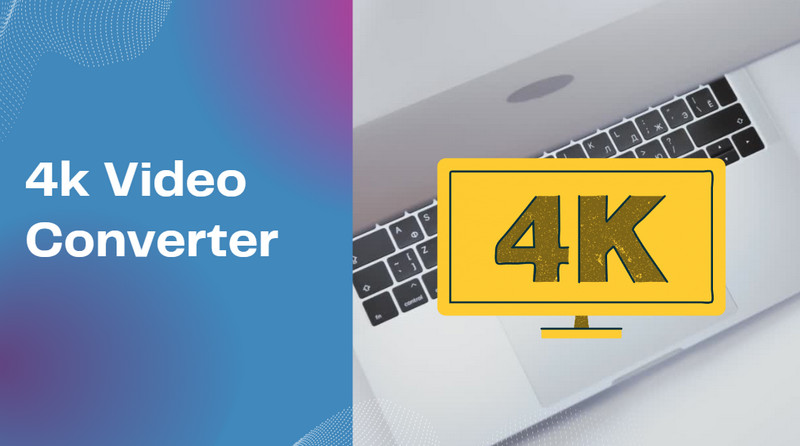 Part 1: What Is 4K Video Converter
A 4K video is the standard of video resolution that has the width of 3840 pixels and the height of 2160 pixels. This video resolution is four times the width and twice the height of 1080p Full HD video. You can also say it is Ultra HD resolution where the pixel density is 8 times the pixel density of full HD. Since they are high-resolution videos, they take up a lot of space. They are also very difficult to edit or share as they are in a larger file format. A 4K video converter is a simple software that will take a lower resolution video, like a 1080p file, and "upgrade" it to a 4K video. This saves you the trouble of having to re-edit the video in a software like AVCLabs Video Enhancer AI.
---
Part 2: Why You Need A 4K Video Converter
If you want to watch your old videos on a 4K TV or computer, you will find that they look grainy and pixelated. Also, you might want to share your videos online on social media or upload them to streaming platforms like YouTube. If your video is not converted to 4K, it will look very bad and people will not want to watch it. Also, uploading a low-resolution video to YouTube is not recommended as it will take up a lot of space and will be difficult to view. A 4K video converter is the easiest and fastest way to convert your old videos to 4K. This will improve the quality of your videos and make them look more modern. It is also a great tool if you are a YouTuber and have a lot of old videos. Converting them to 4K will make them look much better and more appealing to your subscribers.
---
Part 3: Top 3 Best 4K Video Converters to Convert Videos from 720p, 1080p to 4K
Here we just collected 3 powerful 4K video converters (one is free) that can help you convert or upscale any videos from 720p, 1080p to 4K. Let's check them out.
1. AVCLabs Video Enhancer AI - Windows/MacOS
First on our top list of 4k video converters is AVCLabs Video Enhancer AI. It is a AI-based 4K video converter to help users upscale and convert any low resolution videos from 280p, 720p, 1080p to 4K, even up to 8K. Powered by the AI technology, it deals with everything automatically, no professional video editing skills are need.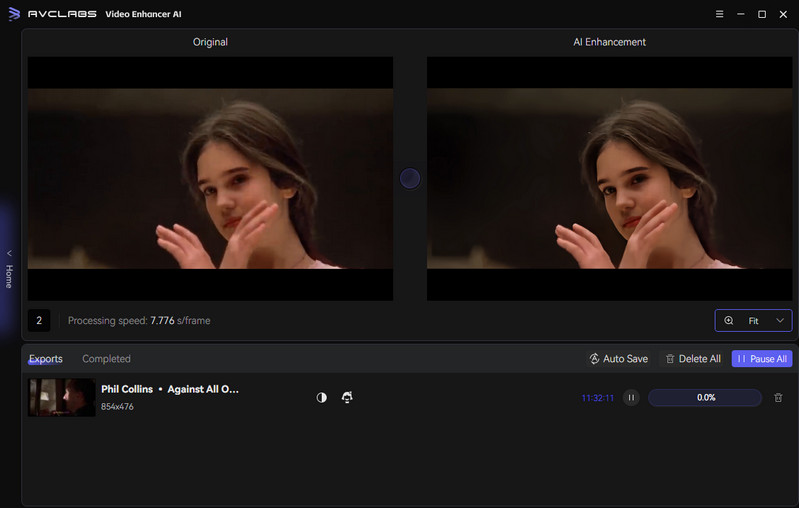 Video Enhancer AI
Enhance the video quality to make them more aesthetically pleasing.
Upscale videos from SD to HD, HD to 4K.
Sharpen faces from blurry video and enhance facial details.
Support denoising and deinterlacing videos as well as cropping videos to fill frame.
Support GPU & TensorRT acceleration.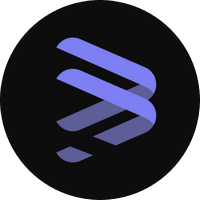 How to Convert Videos from 720p, 1080p to 4K Using AVCLabs Video Enhancer AI
Step 1
Install and Run AVCLabs Video Enhancer AI
Warm reminder: Before upscaling videos from 1080p to 4K, you can click here to check whether your CPU or GPU is capable of improving videos quality with AI.
Download AVCLabs Video Enhancer AI from the link given above and then simply launch it after it has been installed on your computer.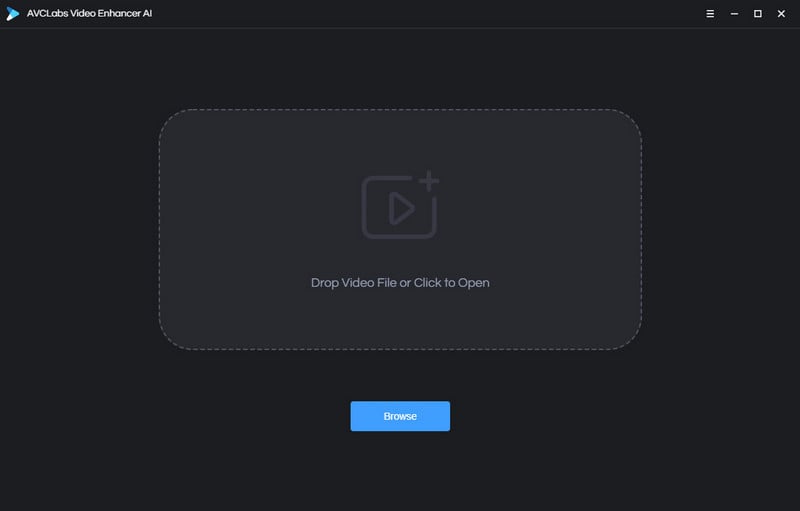 Step 2
Add Video Files and Select the AI Model and Set the Output Parameters
Import videos from your computer to this 4K Video Converter, then you need to set up some critical parameters like processing AI model, output resolution, output format and output path, brightness, contrast, and saturation.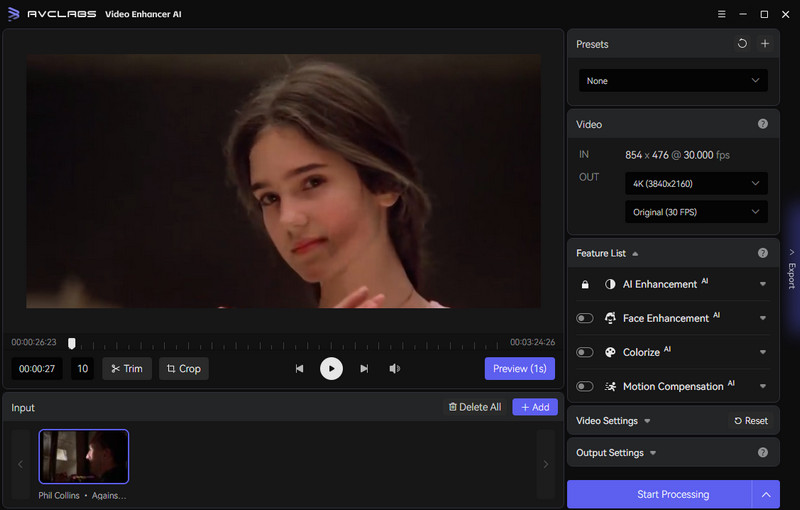 The most direct way to set 4K output resolution is to go to Presets section and select Upscale to 4K.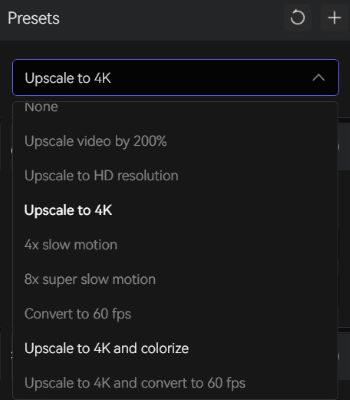 Before upscaling the video to 4K, you are allowed to trim the unwanted parts frame by frame to save processing time. At the bottom of the program, you can trim your video to the desired length by dragging the slider bar. Or input the start and end of the frames to set a clipping point accurately.
Step 4
Start Converting Videos to 4K Automatically
After you completed all the preparation work, just hit on the Start Processing button to start to upscale low-res videos to 4K automatically.
Once the 4K video converting process is done, you can enjoy the converted 4K video by opening the file folder.
---
Pros:
• User-friendly interface for beginners
• Various input and output video formats, and AI models are supported
• Sharpen blurry faces from low-res videos and enhance facial details
• Video editing can be paused and resumed again
• Offer a free trial to test full features before going to a premium plan
• Available on Windows PC and Mac
Cons:
• Online version is not available
---
2. Any Video Converter Free - Windows/MacOS
Any Video Converter Free is a free 4K video converter for Windows and MacOS. The app is one of the best 4K video converters. It is one of the most popular video converters on the internet because of the great features and easy-to-use interface. The app comes with an attractive and intuitive design that is easy to understand. You can use it to edit and modify your videos. The app also has a wide variety of settings. You can use it to convert your videos to various formats, including 4K. You can also use the app to download videos from the internet. The app supports all popular video and audio formats. This means you can use it to convert any type of video. You can use it to convert videos to 4K, Full HD, and many other resolutions. Any Video Converter Free is a simple and easy-to-use video converter. The app is designed for beginners and advanced users.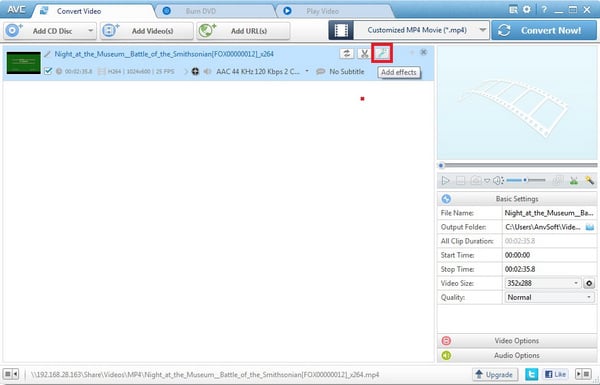 Any Video Converter Free
Edit video clips with cut, crop, and special effects.
Download videos and music from 100+ sites.
Convert CDs & videos to 200+ formats.
Burn any video to blank DVD disc to create DVDs.
Support NVIDIA NVENC hardware acceleration.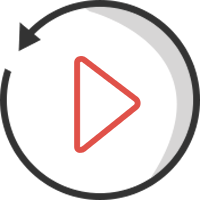 Pros:
• Easy to use
• Totally free
• Support a wide range of media formats
• Excellent filters and effects
• Work perfectly on both Windows PC and Mac
Cons:
• Video conversion cannot be paused, only canceled
• No native support for Apple M1
---
3. VideoProc Converter - Windows/MacOS
VideoProc Converter is a powerful 4K video converter for Windows and MacOS. It is a modern and considerate 4K video converter that comprehensively assists with converting and processing 4K video. With 420+ output formats and 370+ input formats, you can convert any video recorded by a video camera to the format of your preference. It provides input formats for 1080p, 4K HDR, HEVC, and 10bit videos recorded by DJI, GoPro, iPhones, and output formats such as MP4, MOV, H.264, and more.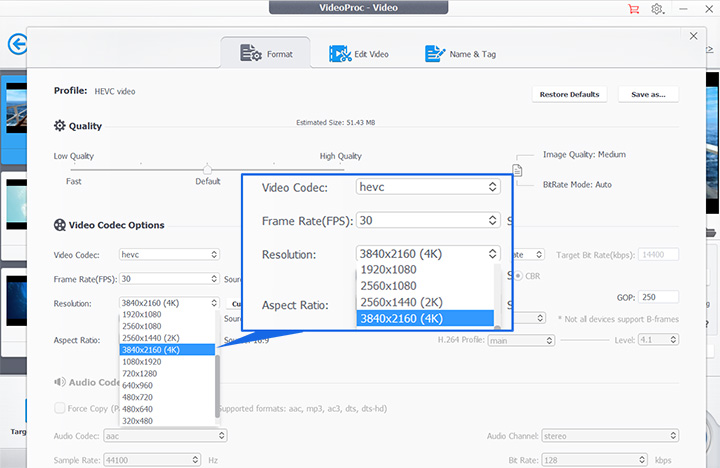 Pros:
• Support video codecs like HEVC, H.264, VP8, DivX, etc
• Especially designed for GoPro
Cons:
• The tool does not work on Linux
• Free trial only allows a 5-min media file
---
Conclusion:
That's all. Now that you have learned the 3 best 4k video converters, and why you need a 4k video converter, you can convert any video from 720p, 1080p to 4K using one of the 4K video converters mentioned above.
Try AVCLabs Video Enhancer AI to breathe new life into your footage!
---

Video Converter

DVD Converter

Video Editor

Enhance Video Quality

Enhance Image Quality

Remove Objects