Reviews of Nexus 7 and New iPad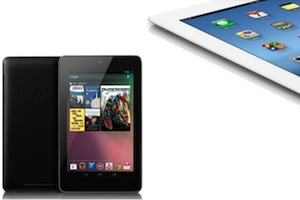 Screen: The first real difference between Nexus 7 and iPad 3rd generation is their screens. The New iPad's 9.7-inch Retina display has 2048 x 1536 pixels of resolution, which works out to a density of 264ppi and is currently the best screen on a currently-available tablet among the market. The Nexus 7 doesn't quite have the resolution of the iPad 3rd, but its 1280 x 800 panel has a respectable pixel density in the 215ppi range, which is still among the best of the rest.
Dimensions: These two tablets are also quite different in size and weight. The Nexus 7 is smaller at 120 x 199mm compared to 186 x 241mm; however it is thicker at 10.5mm against 9.4mm. Since the Nexus 7 is smaller than the New iPad, it is unsurprisingly lighter. It weighs in at 340g and the iPad at 652g for the more featherweight Wi-Fi-only model.
Processor: As we know the processor is an very important part of a tablet. The iPad 3 has an Apple A5X dual-core processor which is based on the ARM Cortex A9 architecture and has quad-core graphics. Google has opted for an nVidia Tegra 3, a quad-core chip along with a 12-core GPU.
Storage: Obviously the Nexus 7 loses out against the iPad 3's storage options. It only has an 8GB and 16GB version, compared to the iPad 3's 16GB, 32GB and 64GB models.
Connectivity: The New iPad has it in terms of connectivity. The Nexus 7 won't be available in a 3G version just yet, so the iPad is unchallenged in non-Wi-Fi terms.
Price: Although Nexus 7 seems to lose out on most aspects, its $199 to $249 price makes it win when compared to New iPad's at $499.
Above all, the price of Nexus 7 is an attractive factor with its impressive power. However, since it's a 7-inch tablet, it should aim to compete with other 7-inch tablets, like Kindle Fire, Nook Tablet, Galaxy Tab 2, etc. But not with 9.75-inch New iPad. The report goes that Apple will also release a 7-inch iPad mini in this October. We won't know which will finally win until then. Anyhow, currently, the New iPad is still remaining the king of the hill. But if you're looking for a tablet that is very portable and won't break the bank, the Nexus 7 is a good option.
How to Convert Video to Nexus 7 on Mac
Some reviewers say that Nexus 7 is all about experience. So do you wonder how it will be when watching movies on? It must be great! Here we are going to talk about how to convert video files to Nexus 7 for play back on Mac OS X.
Any Video Converter Freeware for Mac is a free Nexus 7 video converter for Mac users which helps you to convert between popular video formats, like mpeg4, avi, fly, mov, 3gp, wmv to your Nexus 7 for free. With this free video converter, you are able to enjoy your favorite movies anytime you like with only 3 steps.
Step 1. After launching Any Video Converter Free for Mac, simply click "Add Video" button to load your video files to the program.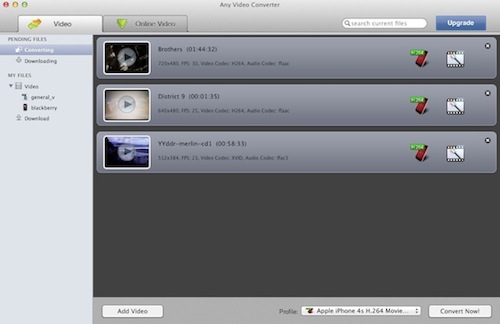 Step 2. Click Profile menu to choose the output format as Gphone or Common Used Video Format>Customized MP4 Video.

Step 3. Start to convert your video to Nexus 7 by hitting "Convert Now" button.
Wait for the all things to be done. Once it's completed, you can import the converted videos to your Nexus 7 to watch.
More Tips for You
1. Any Video Converter Free for Mac can also convert video to New iPad and other portable devices, such as iPhone, iPod, PSP, etc.
2. If you are not satisfied with the functions of Any Video Converter Free for Mac, you are suggested to try the upgrade version of the freeware, called Any Video Converter Ultimate for Mac, which owns more functions like ripping DVD, managing iPod, recording screen, converting video to more output formats, etc.
What Reviewers Say About Nexus 7
"Google Nexus 7 is fast, well-built and worth the money."--PCMag
"It has very limited storage and no HDMI or MHL to connect the tablet to HDTVs."--PCMag
"Nexus 7 has great look and feel with high display and solid performance, but with limited storage."--Engadget