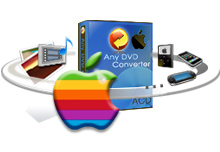 The Best DVD to AVI Video Converter for Mac
Any DVD Converter for Mac is an all-in-one DVD ripper and video converter that can rip DVD to nearly all mainstream video and audio formats. If you're looking for a solution to convert DVD to AVI on Mac so that you can play them on your devices like Blackberry, Nokia, etc, Any DVD Converter for Mac is the best choice for you to rip DVD to AVI video on your Mac.
Any DVD Converter for Mac is a professional DVD to AVI Mac converting tool, which is designed for ripping and converting DVD movies to AVI or any video format like MP4, WMV, FLV, etc, and runs perfectly on Mac OS X. It also supports video output playback on any portable devices like iPad, iPad 2, iPhone 4, iPod touch, iPod nano, smart phones, Google Android or tablet PCs. So you can enjoy your DVD movies on the go.
Different from other available Mac DVD Rippers, the DVD to AVI converter for Mac can fully utilize the power of graphic card so conversion time is much less. Featuring a straightforward interface, any Mac illiterate can get conversion task done with a few mouse clicks. In one word, if you want an effective and fairly user-friendly DVD to AVI Mac solution, download now.
How to Rip DVD to AVI on Mac with Any DVD Converter for Mac?
AVI stands for Audio Video Interleave and is defined by Microsoft. AVI is the most common format for audio/video data on the PC. While, Mac users may also have the need to convert DVD to AVI format. Below is the step by step guide to show you how to rip and convert video DVDs to AVI on Mac computer.
Step 1: Download and install Any DVD Converter for Mac
First, please download, install and run Any DVD Converter for Mac. Then follow the DVD to AVI on Mac converting wizard instructions.
Step 2: Load DVD into Any DVD Converter for Mac
To select a DVD you would like to rip, hit the Load DVD button on the top left corner. In the opened Window, browse for the DVD file.
Step 3: Select a profile for your target device from the description
After you have loaded the DVD into the program, click and pull down the output dropdown list to select the output format for your devices. Since you are converting DVD to AVI, just select AVI format from Common Used Video Formats.
You can also manually set the output parameters for video and audio. For novice users it is recommended to select the default parameter.
Step 4: Convert DVD to AVI on Mac
After you have set up all the conversion output profile and parameters, hit the Encode button to start ripping and converting.
Step 5: DVD to AVI Conversion on Mac completed
After converting finished, transfer the converted file(s) to target device. Enjoy now! .
Features of the DVD to AVI Converter for Mac

Extract Audio from DVD on Mac
Any DVD Converter for Mac is not only a DVD to AVI converter for Mac, but also a DVD to MP3 Converter. It allows you to extract the beautiful movie music and any your favorite movie sound from DVD and save them as MP3 audio files.
Insert the DVD disc into the program, click Load DVD to locate and rip DVD to MP3. From the output profile, select MP3 Audio (* MP3) from the dropdown list. Many other audio file formats are also available for you, such as AAC, OGG, WAV, M4A, WMA.
Click Convert button to start ripping and converting DVD to MP3 audio file on your computer hard disc. It would take about a few minutes to convert DVD to MP3. When the DVD to MP3 process is completed, just import the output MP3 files to your portable media devices. Just have fun!

Diversified Output Formats and Devices Supported
Any DVD Converter for Mac can Not only rip and convert DVD to AVI, but also convert DVD to MP4, DVD to MP3, DVD to 3GP, DVD to MPG for portable media players like iPod, iPhone, PSP, PS3, xBox 360, Archos, Sansa View, iRiver PMP, wii, PDA, Creative Zen, and mobile phones such as Nokia N-series, Blackberry and Google Nexus One.
This DVD to AVI converter for Mac can support many Tablet PC, including convert DVD to Acer iconia, DVD to iPad 2, DVD to Samsung Galaxy Tab, DVD to Google Nexus S, DVD to Motorola Xoom, DVD to Blackberry playbook DVD to Toshiba Android and so on. So you could enjoy your DVD movie everywhere.
Download and Convert YouTube Video
The DVD to AVI Converter for Mac allows you to download YouTube videos and convert them to many video and audio formats in lightning speed. This program also supports YouTube HD video files. There are many easy and simple ways to download YouTube Videos. Copy and paste YouTube video URLs on the window of the converter to start downloading. This "download + convert" software offers you the easiest and fastest way to watch, download and transfer YouTube videos to your multimedia device!
With the DVD to AVI Converter for Mac, you can finish the following tasks:
| | |
| --- | --- |
| • Rip DVD to AVI on Mac | • Rip DVD to WMV on Mac |
| • Rip DVD to MKV on Mac | • Rip DVD to MP4 on Mac |
| • Rip DVD to MPEG-I on Mac | • Rip DVD to MPEG-II on Mac |
| • Rip DVD to FLV on Mac | • Rip DVD to SWF on Mac |
| • Rip DVD to 3GP on Mac | • Rip DVD to 3G2 on Mac |
| • Rip DVD to ASF on Mac | • Rip DVD to M2TS on Mac |
| • Rip DVD to iPod Classic on Mac | • Rip DVD to iPod Touch on Mac |
| • Rip DVD to iPhone on Mac | • Rip DVD to iPhone 3G on Mac |
| • Rip DVD to Apple TV on Mac | • Rip DVD to PSP on Mac |
| • Rip DVD to PS3 on Mac | • Rip DVD to Sony Walkman on Mac |
| • Rip DVD to Zune on Mac | • Rip DVD to Zune HD on Mac |
| • Rip DVD to Xbox 360 on Mac | • Rip DVD to Archos on Mac |
| • Rip DVD to Sandisk Sansa on Mac | • Rip DVD to iRiver |
| • Rip DVD to Google Android | • Rip DVD to BlackBerry on Mac |
| • Rip DVD to Cowon on Mac | • Rip DVD to Google Nexus One on Mac |
| • Rip DVD to Toshiba on Mac | • Rip DVD to Samsung on Mac |
| • Rip DVD to Nokia on Mac | • Rip DVD to Netbooks on Mac |
| • Rip DVD to Creative Zen on Mac | • Rip DVD to Windows Phones on Mac |
| • Rip DVD to YouTube Video on Mac | • Rip DVD to iMovie on Mac |
| • Rip DVD to M4V on Mac | • Rip DVD to Android Phones on Mac |
| • Rip DVD to Tablet PCs on Mac | • Rip DVD to iPad on Mac |
| • Rip DVD to HTC on Mac | • Rip DVD to MP3 on Mac |
| • Copy DVD to DVD on Mac | • Copy DVD to ISO on Mac |
| • Copy DVD to Hard Drive on Mac | • Convert DVD to Videos on Mac |