With Syncios iPod Transfer software, you are now free from ineffective management of your iTunes library. Transferring music or videos from PCs to iPods, iPods to PCs, iPod to iPod, iPod to iPad, iPod to iPhone is no longer unreachable. It can solve the tough problem of one-direction synchronization and make iPod contents management and transferring much more easier.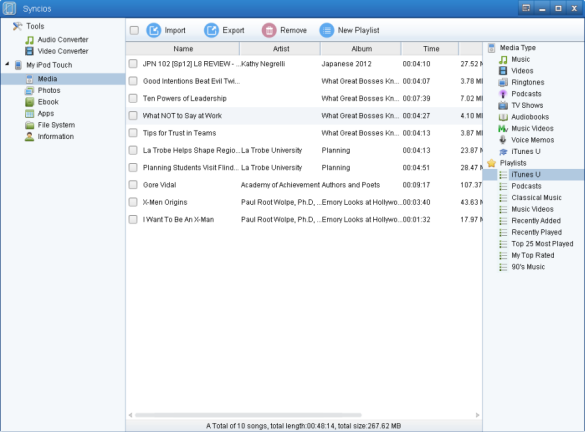 Features of the iPod Transfer Software
1. Copy iPod contents to multiple computers
Quickly and easily copy your music and video from any iPod back onto any Windows computer. You can also copy tunes and movies from your PC onto any iPod. The iPod Transfer Software move your music and video seamlessly between computers and iPods.
2. Manage iPod files with simple clicks
Add movie, TV show, eBook, music and more from PC to your iPod, delete unwanted file to spare space for new files. One click to export files to local hard drive.
3. Access any file in iPod
The built-in virtual file system allows you to access any folder in iPod. You can use iPod as USB key to keep import file with you.
4. Works with all iPod models including iPod Touch
Fully support iPod Touch, iPod classic, iPod Nano and all iPod models, even compatible with iPhone and iPad.
5. Convert video & audio to iPod supported formats
Syncios iPod Transfer also features the functions as free audio converter & free video converter. It supports converting a vast range of audios/videos to MP4, MOV, M4V, MP3, M4A, M4R and CAF for iPod/iPad/iPhone.
6. Manage bookmarks, contacts, notes, voice memo
Syncios iPod Transfer allows you to manage and backup the information on iPod/iPad/iPhone freely. You can also remove or reconver your contacts with this Syncios iPod Manager. Backup or add new contact, manage bookmarks, notes, voice memos are also available.
If you have more than two computers and want to share music/movie on iPod with multiple computers, if you need to transfer iPod contents to different computers, or you ever thought of backing up your iPod contents, we highly recommend you try out this free iPod transfer software. Syncios iPod Transfer can be a great iPod to PC transfer, music to iPod transfer, movie to iPod transfer and moves your music and video seamlessly between computers and iPod!

Copyright ©2021 Anvsoft Inc. All Rights Reserved.