Customize Output Video
1. How to Customize Parameter Settings?
Click "Edit profile" icon to adjust parameters of the profile according to you requirements, you can also keep the defaults.
Tips: When checking on the option Apply to All, your Profile/ Video/ Audio/ Advanced customized settings will apply to all files in the Convert Video list.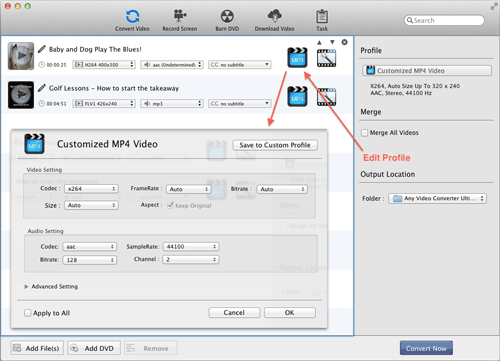 2. How to Save the Customized Profile?
1. Click "Edit profile" icon, in the popup profile parameters window, click "Save to Custom Profile" button to custom profile.





2. Typing the name of the new profile in pop-up window, and you can also keep the defaults. Then the custom profile is added to Customized Video category. It could be deleted from Profile list by clicking "-" icon .





3. How to Customize Output Video?
1. The parameters of the video include name, video, audio, and subtitle.
2. Click the "Modify" icon to custom the name of the output file.
3. Click the drop list to adjust the video, audio and subtitle parameters.
4. In additional, you can add an extra subtitle (srt, ass, ssa, smi subtitle format supported) into the video by clicking add subtitle.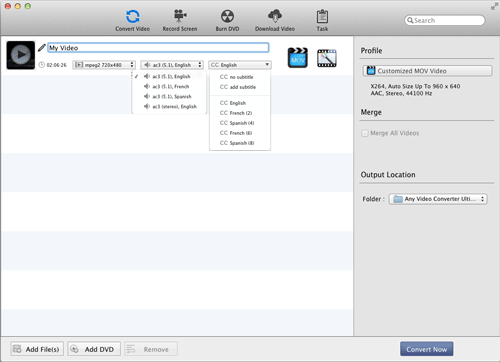 Testimonial

"Have captured some Netflix streaming videos. Good quality! " -- Jane White
"Your HTML5 output profile with embedding code, really rocks! Easily shared DV on my site!" -- Eric Gates
"To my surprise, your video converter can also create DVD movies and record videos. Really an excellent bonus!" -- David James
"AVC Ultimate merits its label as the ultimate multimedia solution!" -- Loring Lee
Video Converter Ultimate
Copyright ©2022 Anvsoft Inc. All Rights Reserved.