Features of DVD to WebM Video Converter
The DVD to WebM Video Converter provides four major functions: ripping DVD, converting video file formats, downloading online videos and burning video files to DVD. The DVD to WebM Video Converter also offers many brilliant features: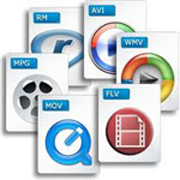 • Support a wide range of video formats (3g2, 3gp, 3gpp, 3gp2, amv, asf, avi, avs, dat, divx, dv, dvr-ms, f4v, flv, m1v, m2p, m2t, m2ts, m2v, m4v, mkv, mod, mov, mp4, mpe, mpeg, mpeg2, mpeg4, mpg, mpv, mts, nsv, ogg, ogm, ogv, qt, rm, rmvb, tod, trp, tp, ts, vob, vro, wmv, webm) so that you can enjoy any DVD movie and videos on various portable devices, such as iPod, iPhone, Apple TV, Gphone, PSP, PS3, Walkman, Zune, BlackBerry, Creative Zen, Archos, iRiver, Sandisk Sansa, Wii Nitendo, Nokia mobile phones and MP4 players
• Clip video into many segments and merge several videos into one file; Tune video saturation, contrast, brightness; flip and rotate video into any side view as you like.
• You can just use the default parameter setting to convert DVD to WebM (normal video and audio quality) or you can choose to set by yourself to customize the video and audio quality (e.g.Video Codec, Video Bitrate, Audio Codec, Audio Bitrate, Audio Channel).
• when you convert and rip DVD to WebM, you may take images of the DVD movie and save as PNG.
• Support Multilanguage interface. DVD to WebM Converter is available in English, German, French, Spanish, Japanese, Arabic, Italian, Chinese, etc.
The Main Window of DVD to WebM Converter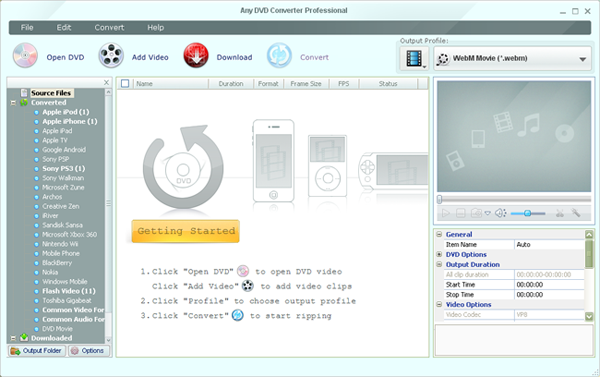 How to convert and rip DVD to WebM?
Step1: Open DVD Movie
From DVD disc:
1. Insert your DVD movie disc to the DVD drive and then launch the program.
2. Normally, the program rips files on DVD automatically. If it doesn't, click the Open DVD button to locate and rip DVD.
3. The program checks the title with movie content automatically, so you just need to covert the checked one. Generally, the longest one is the movie content.
From DVD backup folder:
1. Launch the program.
2. Go to menu File > Open DVD Folder, locate the backup folder (VIDEO_TS) which contains VOB files and press OK.
3. The program will add and check the title for DVD movie. Generally, the longest one is the movie content.
Step 2: Choose output format from the profile drop-down list.
Go to the top right corner of the main window and select "WebM Movie (*.WebM)" from the output profile as the output format. You can also set the frame size you prefer from the drop-down list of "Frame Size" option.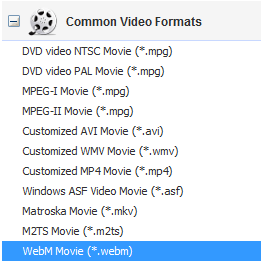 Tips:You can also customize video and audio settings (e.g. Video Codec, Video Bitrate, Audio Codec, Audio Bitrate, Audio Channel) in DVD Converter to enhance the experience of enjoying DVD movie.
In addition, before ripping DVD, unfold DVD Options in the right settings panel, set Audio Language to the one you would like the movie's sound to play in. You can also set subtitle language and angle. If you don't like the DVD to be separated as titles, click Edit >> Options >> DVD and check.
Step 3: Click Convert button to start ripping and converting DVD to WebM. Once the conversion is finished, you can click "Output Folder" button to get the output WebM files. Then just enjoy it!
Wanna to make a backup copy of DVD movie? Any DVD Cloner Platinum lets you decrypt DVD, copy DVD to blank DVD, backup DVD to hard drive, rip DVD to various video formats for iPod, iPhone, PSP, PS3.
Knowledge about WebM
WebM is an audio-video format designed to provide a royalty-free, open video compression format for use with HTML5 video. The project's development is sponsored by Google.
A WebM file consists of VP8 video and Vorbis audio streams, in a container based on a profile of Matroska. The project releases WebM related software under a BSD license and all users are granted a worldwide, non-exclusive, no-charge, royalty-free patent license. Despite this, some in the industry have called upon Google to provide indemnification against patent suits.
Native WebM support by Mozilla Firefox 4, Opera 10.6, and Google Chrome was announced at the 2010 Google I/O conference. However, not every web browser natively supports WebM.
Media players such as VLC, Miro, and Winamp, have announced support. MPlayer has native support for playing WebM files.
With Any DVD Converter or Any DVD Cloner Platinum, you can finish the following tasks:
| | |
| --- | --- |
| • Rip DVD to AVI | • Rip DVD to WMV |
| • Rip DVD to MKV | • Rip DVD to MP4 |
| • Rip DVD to MPEG-I | • Rip DVD to MPEG-II |
| • Rip DVD to FLV | • Rip DVD to SWF |
| • Rip DVD to 3GP | • Rip DVD to 3G2 |
| • Rip DVD to ASF | • Rip DVD to M2TS |
| • Rip DVD to iPod Classic | • Rip DVD to iPod Touch |
| • Rip DVD to iPhone | • Rip DVD to iPhone 3G |
| • Rip DVD to Apple TV | • Rip DVD to PSP |
| • Rip DVD to PS3 | • Rip DVD to Sony Walkman |
| • Rip DVD to Zune | • Rip DVD to Zune HD |
| • Rip DVD to Xbox 360 | • Rip DVD to Archos |
| • Rip DVD to Sandisk Sansa | • Rip DVD to iRiver |
| • Rip DVD to Google Android | • Rip DVD to BlackBerry |
| • Rip DVD to Cowon | • Rip DVD to Google Nexus One |
| • Rip DVD to Toshiba | • Rip DVD to Samsung |
| • Rip DVD to Nokia | • Rip DVD to Netbooks |
| • Rip DVD to Creative Zen | • Rip DVD to Windows Phones |
| • Rip DVD to YouTube Video | • Rip DVD to iMovie |
| • Rip DVD to M4V | • Rip DVD to Android Phones |
| • Rip DVD to Tablet PCs | • Rip DVD to iPad |
| • Copy DVD to DVD | • Copy DVD to ISO |
| • Copy DVD to Hard Drive | • Convert DVD to Videos |