How to Burn Nico Videos to DVD/Blu-ray disc
Nico Video is a popular video sharing website in Japan managed by Niwango. In this webiste users can upload, share, and view videos. Unlike other video sharing sites, however, comments are overlaid directly onto the video, synced to a specific playback time. This allows comments to respond directly to events occurring in the video, in sync with the viewer - creating a sense of a shared watching experience. Maybe some people prefer enjoy Nico Videos on TV system. So they need to burn Nico Videos to DVD or Blu-ray disc. But how to burn the funning Nico Videos to DVD or blu-ray disc? Here our programs can help you burn your desired Nico Videos to DVD.
Any Video Converter and Any DVD Converter Professional feature a new characteristic: both of them can burn Nico video to DVD with DVD Menu.
Here the following is a brief guide on how to burn Nico video to DVD/Blu-ray disc.
Step 1 : Add/Download Nico video to the program.
If you have downloaded the Nico Videos from the website and saved in your computer disc, you just need click Add Video button or go to menu File > Add Video Files to select your desired video clips from your hard drive. But if you do not download the Nico Videos, with Any Video/DVD Converter, you can download videos from Internet and then burn it to Blu-ray disc.
Firstly, you need to visit Nico.com and right-click on the desired video to choose Copy Link Location (this is for Firefox users) or open the video and then copy the URL from the navigation bar (this is for IE users).
Secondly, you can click online video download button to begin download Nico directly.

Or you can choose File> Import Video to from Internet to begin downloading videos.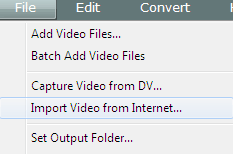 Thirdly, paste the link in the program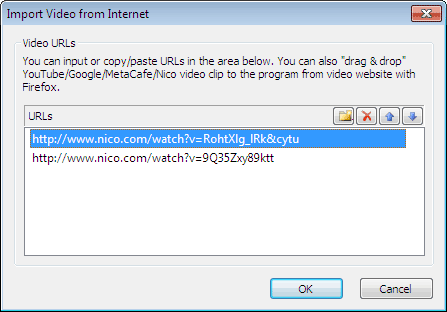 After you have downloaded the Nico Videos, all of them will be displayed on the middle panel with their detailed information, including duration, format and size, etc.
Step 2 : Choose Burning to DVD output profile.
Please unfold Output Profile, choose Burning to DVD from the list, and then choose DVD video NTSC Movie or DVD video PAL Movie according to your TV system.
Note: If you want to burn video to AVCHD DVD, please refer to the guide on how to burn video to AVCHD DVD.

Step 3 : Click Convert button to start encoding Nico Videos.
Once everything is ready, you can click on Convert to start the exporting process. If you would like to cancel encoding, please just click the Stop button and click Yes in the pop-up window then the encoding will be stopped.
Step 4 : Choose DVD Menu.
You will be prompted to choose DVD Menu when the program finishes Nico video conversion process.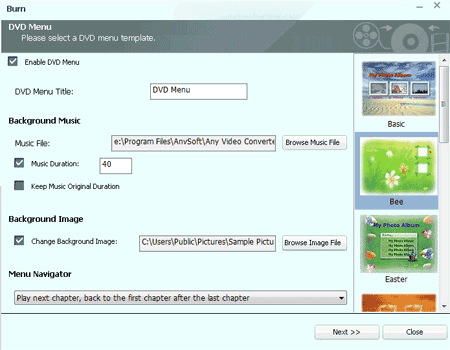 --In DVD Menu Tile, you can name your DVD and input it into the box directly.
--In Background Music, you can browse music file from your local computer for your DVD.
--In Background Image, you can change your DVD's background image by click Browse Image File to select your desired image from your computer.
--In Menu Navigator, you can choose the playback mode for your DVD.
After you have made sure the settings, please click Next>> to follow the next step.
Step 5 : Insert DVD and start burning Nico video to DVD
In DVD Configuration, you can see the following pop-up window;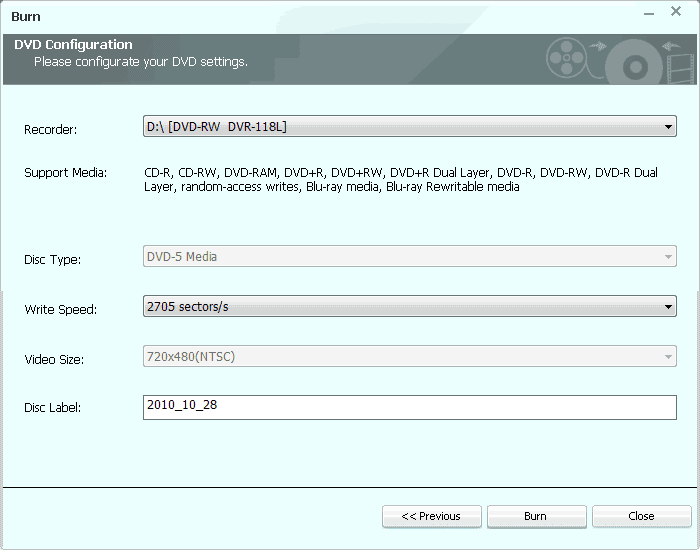 The program supports burning video to CD-R, CD-RW, DVD-RAM, DVD+R, DVD+RW, DVD+R Dual Layer, DVD-R, DVD-RW, DVD-R Dual Layer, random access writes, Blu-ray media, Blu-ray Rewritable media.
Insert a DVD media to the DVD burner, select recorder from the drop-down list, enter your desired Disc Lable, and then click Burn button, then the program will begin to burn video to DVD.
Note: If the inserted disc is not empty, you will be prompted to erase the disc. Click Yes, all data on the disc will be overwritten!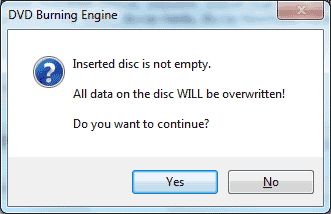 You can see the progress of burning Nico video to disc: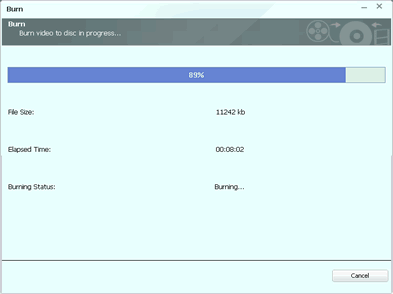 After the program finish to burn Nico video to DVD, it will pop up a DVD Burning Engine to congratulate you that your disc has been successfully burned.
Click OK button, the drive automatically ejects the disc.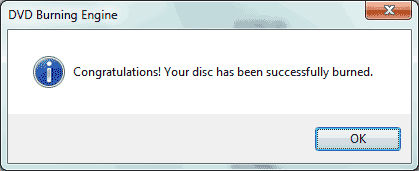 Now your Nico video have been burned successfully to DVD/Blu-ray disc, just have fun!
Related Articles:
How to Burn YouTube Video to DVD
Copyright ©2019 Anvsoft Inc. All Rights Reserved.